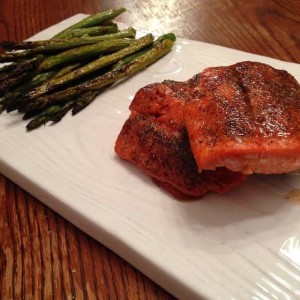 You know those little samples of chicken with a toothpick stuck in them that you get from the fast food place in every mall across America…I gobble those up.  Well, I decided I wanted to make my own.
For Fathers Day, instead of going out and overpaying at every quality restaurant you go to – we usually decide to dine in and pick up good seafood from the counter at our local Whole Foods.  I decided I wanted to make my own bourbon glaze and boy did it ever satisfy.  I think I could drink the glaze – but instead chose to put it on fish – then put the leftovers on chicken for the next couple of weeks.
And, soon after that, I got the chance through Blogging for Books to review the book The Art of American Whiskey.  I found it interested because I know nothing about whiskey or bourbon except that the good stuff is made in KY or TN (usually).  This book told me the history of it through the art of it.  I loved learning how people made their craft and how they learned to live when prohibition hit our country and what brands are surviving and thriving today.

Bourbon Glaze
This perfect glaze is a hint of spicy and sweet
Ingredients
¾ cup bourbon of your choice
⅔ cup dark brown sugar
1-2 garlic cloves, minced
1 tsp apple cider vinegar
1 T worcestershire sauce
2 tsp honey
½ tsp brown mustard
pinch of red pepper flakes
Instructions
Combine everything in a small saucepan.
Whisk together and bring it to a boil.
Reduce the heat and simmer for about ten minutes until the glaze reduces.
Pour over your fave meat or salmon
This glaze is great on salmon, chicken, pork chops, ribs, etc.