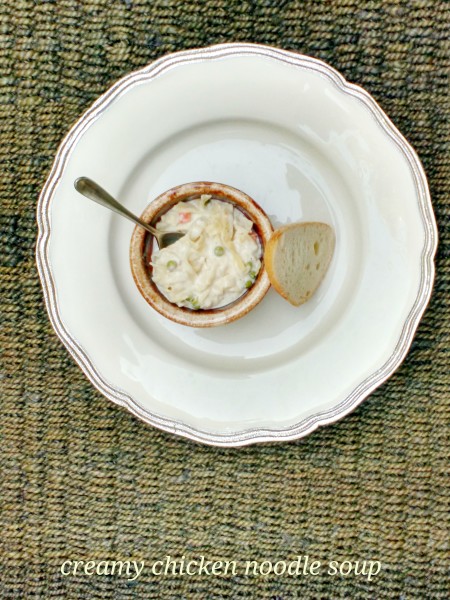 I don't know what it is but the moment anyone in my family says they are sick, I immediately jump on the orange juice and chicken soup bandwagon.  Well, last weekend, my husband came down something for the millionth time this year.  I said I would go to the store that night.
I'm not a huge fan of broth noodle soup because after reheating it several times you don't have any broth left.  And it usually lacks flavor. However, I wanted something creamy and thick and comforting.  This was it!
My boys and my mister have loved it – and my mister is all better. So, was it the chicken noodle soup, who knows? But, I know it didn't hurt!

Creamy Chicken Noodle Soup
Prep time:
Cook time:
Total time:
Thick and creamy chicken noodle soup
Ingredients
7-8 cups homemade chicken broth
2-3 cups rotisserie chicken, cubed or shredded
½ white onion, finely chopped
1 bag frozen peas and carrots (do not thaw)
2 T unsalted butter
3 cups of medium egg noodles, (measure out 3 cups dry before cooking)
¼ cup unsalted butter
¼ cup all-purpose flour
2 cups whole milk
1 cup heavy whipping cream (or half and half, or more milk)
generous amounts of salt and pepper (remember you can always add but you can't take away)
Instructions
In a dutch oven, saute onion and frozen peas and carrots over medium heat with the 2 T of butter for about 5 minutes.
Add in liquid and bring to a boil.
Add in noodles. Cook until al dente.
In a small sauce pan, heat butter and flour, whisking vigorously until all the flour is mixed in and the butter is melted. Add in milk and cream.
It will thicken as it stands.
When the noodles are done, add in chicken and cream mixture.
Let sit for a few minutes off heat. Serve with bread or a side salad.
This soup does get thicker as it sits in the fridge a while. Leftovers are more like a casserole. So yummy.