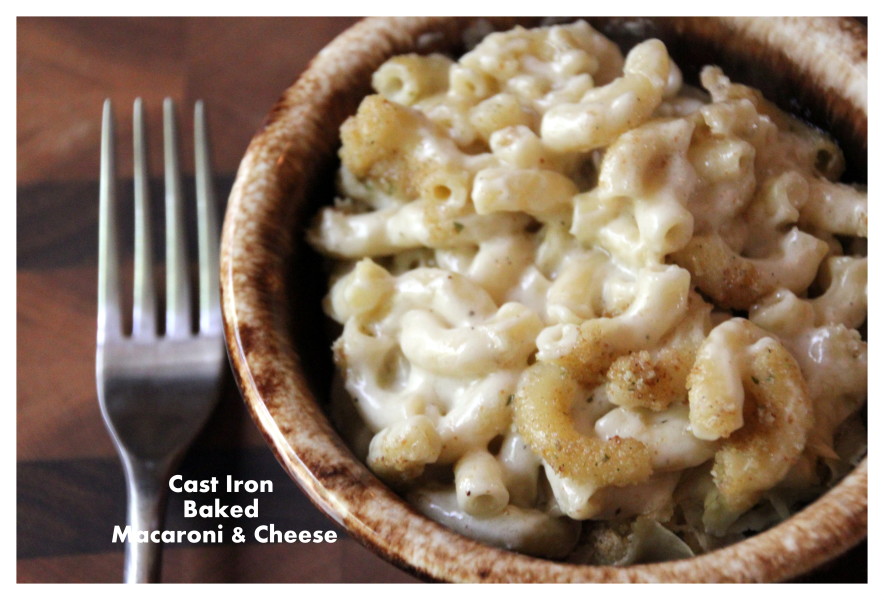 My husband would quickly tell you that my favorite meal would either consist entirely of macaroni and cheese or maybe just throw a good medium steak topped with onion and mushrooms on the side for some more protein.
So, since my younger son is teething and longs for soft foods, I decided today would be the day to make some homemade cheesy goodness for their dinner – and to have as a side to some leftover bbq sliders for my husbands dinner.
Cast Iron Macaroni and Cheese
Prep time:
Cook time:
Total time:
Southern, baked, double the cheese, heavy cream - how delicious!
Ingredients
1 box elbow pasta, cooked to al dente according to directions
½ stick unsalted butter
¼ cup flour
1 T dijon mustard
salt and pepper
1½ cup heavy cream
1½ cup whole milk
7 oz grated sharp white cheddar cheese
¼ cup italian bread crumbs
2 T cold unsalted butter
2 oz shaved Parmesan cheese
Instructions
Cook pasta according to directions. Cook with oil and salted water - so your pasta doesn't clump together.
In a 10 inch cast iron skillet, melt butter over medium heat. Add in flour and whisk together until no clumps remain.
Add in milk and cream and spices.
Add in sharp cheddar.
When all is blended together, fold in pasta.
When pasta is all coated, sprinkle on Italian bread crumbs.
Cut the butter in tiny pieces and place on top of the pasta.
Sprinkle on Parmesan cheese.
Bake at 400 for about 20 minutes until cheese on top is melted and browned.