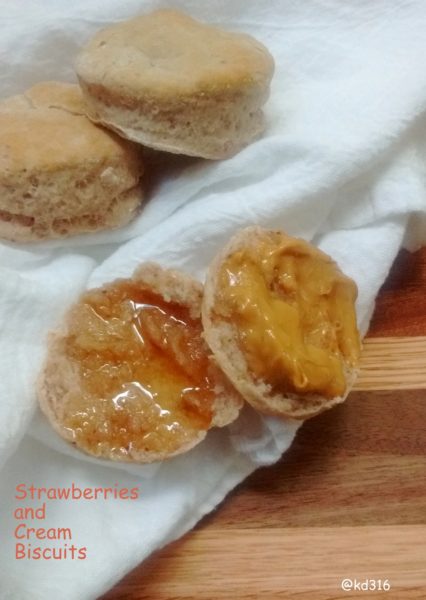 I grew up in the South.  Some folks don't consider Florida to be the South, but when you live in the middle of the state all your life surrounded by orange groves and muscadine vines, take vacations to state parks and the Suwanee River, and live on Publix fried chicken and church potlucks, you are definitely from the South.
For me, summer in the south meant swimming in our pool (my Mom opened the pool season April 1), playing baseball in our yard with my cousins, listening for our "school bell" to ring to tell us it was time to come home, and heading to the Circle K for ice cream (31 flavors never got old) and watching Mets baseball via WWOR.
For me now, summer is summer.  Its hotter. And I love to pick fruit.  Strawberries, blueberries, peaches, you name it.  If it is available to me, I want to pick it.  And I love to bake with it.  From peach cobblers to strawberry pizza, and these strawberries and cream biscuits.

Strawberries and Cream Biscuits
Prep time:
Cook time:
Total time:
A mildly sweet strawberry biscuit waiting for some honey and peanut butter.
Ingredients
1¾ - 2 cups all-purpose flour
4 tsp baking powder
¼ tsp baking soda
⅕ tsp kosher salt
6 T cold, unsalted butter
6-7 strawberries (tops removed), mashed
2 T turbinado sugar
¾ cup full fat buttermilk
Instructions
Preheat oven to 400. A cast iron pan grill pan will be a great cooking sheet!
Mix dry ingredients in a food processor.
Slice butter and put in food processor.
Pulse until small pebbles form in dry ingredients.
Mash strawberries and pour in the sugar. Let sit for 5-10 minutes.
Add in buttermilk.
Pour slowly into the food processor and let it mix well with the dry ingredients.
Turn out onto a floured cutting board and kneed for 1-2 minutes, adding flour if necessary.
Form into a ¾ inch high circle and cut into biscuits.
Put in cast iron pan and bake for about 20 minutes.
Take out and let cool on cooling rack.
Serve with butter, honey, strawberry jam, or peanut butter - or some of all.