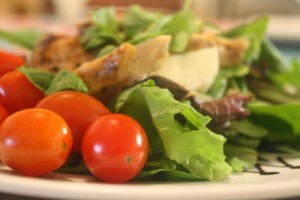 I was given two of Giada's cookbooks and am almost done reading both of them – and salivating at the contents.  Here is one of them – the easier recipes of the two cookbooks.  This would be a good cookbook for a beginner, with some of the recipes not really needing to be in there because they only have like 4 ingredients or something and most cooks with any experience could put combinations together. 
Here are the recipes that I look forward to trying in Everyday Italian:
Marinara Sauce (though I've come to love mine, maybe I can comine the recipes to make a perfect batch)
Vodka Sauce (so yummy and simple)
Lemon Spaghetti (because it is perfect for this summer weather)
Pizza di Spaghetti (baked pasta – does it get any better?)
Chicken Cacciatore (to see how it compares to my favorite)
Stuffed Mushrooms (actually, I made these for a wedding reception recently: they were a hit and quick and easy)
Verdure al Forno (basically, baked veggies and cheese)
Grilled Pineapple with Nutella (perfect late pregnancy treat)!
What I've learned about Italian cooking: 3 key ingredients are really expensive: proscuitto, mascarpone cheese, and pine nuts.
Enjoy cooking fresh!