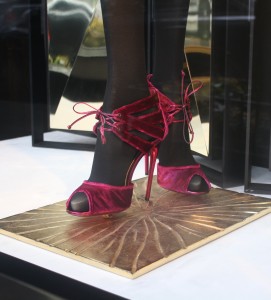 I have a pair of shoes that I love.  Found them at a consignment shop in Belmon, NC – a pair of JCrew Zebra peep toe 3 inch heels.  They are fabulous.  Heels are amazing and so are flats – gorgeous shoes that make any outfit.  What about the lipstick I just found in a perfect shade of purple or that great gray knit clutch I have that goes well with any outfit I have on – any time of the year?
Should be there some boundaries in what I allow my son to wear/try on?
Read this article in Parenting magazine.  I couldn't believe it.
"Picture this: you are a single mother raising a son. You walk into your 4-year-old's room and find him wearing his sister's tutu and his face smeared with lipstick.  What do you do:
A.  Get on the phone with your pediatrician, sure that the lack of a male role model at home has caused irreparable harm
B.  Tell him peach is more his color and grab your tube of Coral Sea
C.  Shrug and reach for the wet wipes.
Parenting Answer: You are a fine parent if you do any of the above.  Children from single parent homes are always experimenting with perceived ideas about gender. 
This article frustrated me so much.  Really…here are my thoughts.
1.  God made you the parent to help shape your son or daughter into who they are going to be.  That is a significant role.  And I don't think it is right for a boy to dress up in girly fashion, try on lipstick, or really, play with barbie dolls.  I think boys struggle with their identity as it is.  Just like girls do.  But, fathers – step up and be a good positive manly role model for your son – starting before he is even born.  Women – teach your daughter how to be feminine even when she is a baby.  You have this charge!  God created each of us male and female.  We display the glory of God by being who God created us to be.
2.  If you are a single Mom – see if there are dads in your local congregation that you can ask to help show your son what it means to be a strong man of God.  Ask the children's pastor or youth pastor if there is someone he would recommend.  Single Dads – do the same thing – but with a godly woman (aunt, sister) who might mentor your daughter on what it means to be feminine.
3.  Don't feel like a failure.  If I catch baby trying on my heels or lipstick.  I may laugh then tell him that those are not things that he is to wear.  Then I'll go grab his daddy's cologne and spray it on him, put a tie around his neck, or maybe put his ball cap on his tiny little head.  Much grace is needed in parenting – we don't need gender bending. 
I'm not talking about teaching your son how to cook or make a bed, or teaching your daughter how to change the oil in her car.  These are life skills that each person needs (and I still don't know how to change the oil in my car).  I'm talking about gender-specific activities or apparel.  Lipstick, dresses, soldier play, guns, etc. 
The one part I liked about the Parenting article: "Parents are a key influence!"  Will you be an influence for biblical masculinity and femininity – that hopefully will give them rich insights into the Gospel of Jesus Christ – or will you allow you children to determine their "preference" in who they want to be.
Photo: These aren't the shoes I'm referring to in the post, but aren't they gorgous.  I saw them in an NYC store front while we were on our honeymoon.  Fab.U.Lous!
Two books to recommend on this topic: Boyhood and Beyond by Bob Schulz and Girl Talk by The Mahaney Family and this link by Randy Stinson