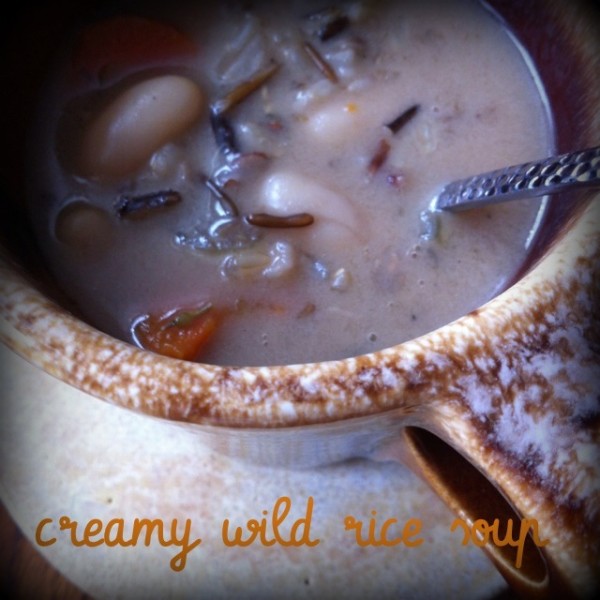 All most people want when it is cold outside and when they are sick is something warm, served in a bowl, eaten with a spoon.  Preferably with some type of broth involved.
Well, it is both cold outside and we are sick inside.  So, all I wanted was a soup.  Since I couldn't get out to go the store – I had to use what I had.  So, when my husband said, "that's a keeper!" I was excited!  So, no matter if you are sick, or if it is cold outside, make this soup to warm your hands as you hold a mug or bowl of it (I had mine in one of my husband's grandmother's mugs that we have).
Creamy Wild Rice Soup
evoo
1 T unsalted butter
3 carrots, pennied (cut into rounds)
2 celery stalks, diced
2 garlic cloves, minced
1 box beef broth (or chicken, or vegetable)
1 1/2 cups wild rice blend
1 can cream of mushroom soup
1/2 tsp each of sage, rosemary, and oregano
pepper to taste
Heat old and butter in a pan – sauté vegetables.  Pour in broth and bring to a boil.  Add rice and cook according to directions.  (I used slightly less rice to broth ratio that the directions called for because I wanted more liquid in my soup.)  When rice is done, whisk in creamed soup and spices.
If you want – add in diced, cooked chicken as well.
Enjoy!