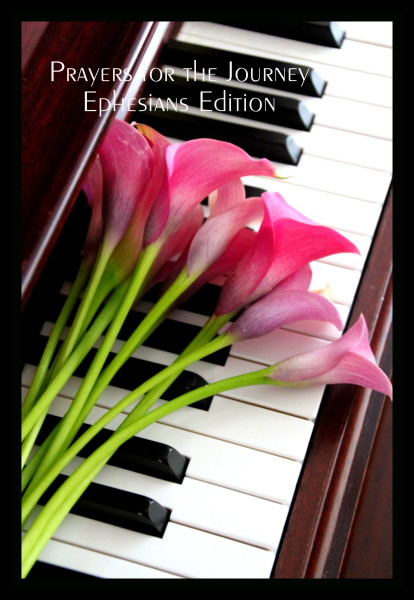 Big announcement: Prayers for the Journey: Ephesians edition is finally on Kindle!  That's right – I have a self-published book on Amazon!!!
Here is a review of it on the CBMW site via my friend Courtney Reissig
If you haven't heard of Prayers for the Journey – it is a kindle book devotional with journaling pages that literally walks through specific verses in Ephesians (or other books of the Bible) and helps wives know how to pray the word for their husbands.  I've been writing these since I got married, but have been learning about praying for my husband for two decades.
There are so many people to thank:
My parents and in-laws : thank you for always being an encouragement and my greatest fans
My Mister: thank you for being one who sanctifies me and prays for me – and also my first editor
Amy Torcasso: My designer – who also did the work on Treasuring Christ when I was writing it – but now we stay in touch through this!  Super talented and selfless
Sarah Popovczak: My editor for this edition of the Prayers for the Journey – she's about to be a mom too!
Amelia McNeilly: A great publicist and encourager and the one who got this worked out for Kindle
Phyllis Robshaw: Amazing mentor and the one who lives out this act of praying for her husband and family and me – by praying the Word.
My Little Misters: Dudes that will make amazing husbands one day – and I'm already praying for them as they will be husbands to precious wives.
Margo Bowen: a mom of many and grandmom to many and a wife to one.  Thank you for loving my Mister as a son and for writing the introduction to this edition.
Future Editions: Nehemiah is available now on the blog for free.  Colossians is being typed up now and getting ready to be sent to my editor before she has her baby.  James is being written and prayed.  1 Peter is the the next one in the works.
Thanks all.  Please feel free to get the word out.  2.99 is a great deal and its for your kindle!