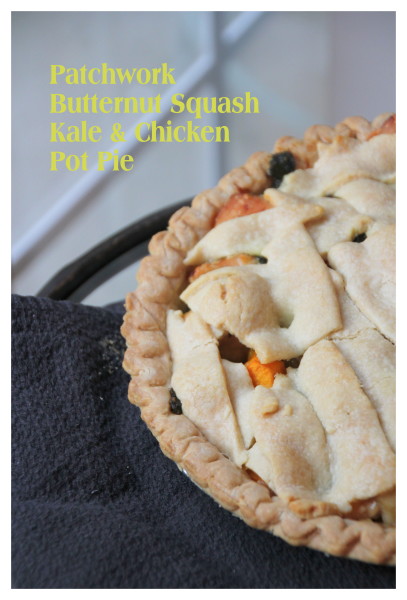 Bring on the Fall.  This week seems to be one of the hottest in the whole summer – just when I'm thinking of pumpkin lattes and vanilla and sweet potatoes.
I look forward to evenings when I can snuggle on the couch under a blanket with my hubs – watching a movie – after the boys go to bed – knowing that it is getting cool outside!

Patchwork Butternut Squash, Kale, & Chicken Pot Pie
Author:
the charming south kitchen
Prep time:
Cook time:
Total time:
A fall flavored pot pie with chicken, butternut squash, and kale
Ingredients
2 chicken breasts, cut into pieces
1 onion, diced
1 garlic clove, minced
2 T unsalted butter
2 T evoo
1¼ cup diced butternut squash
½ tsp fennel seeds
½ tsp white pepper
1½ tsp kosher salt
½ tsp black pepper
2 massive handfuls of chopped kale
⅓ cup shredded parmesan cheese
1 pie crust, torn in pieces
Instructions
Heat the oven to 350.
In cast iron skillet, heat oil and butter. Add in onion and cook for about 3-4 minutes.
Add garlic and cook for about 1 minutes
Add squash and cook for about 5 minutes.
Remove from pan.
Cook the chicken in same pan until done.
Combine the vegetables, chicken, spices, and cheese.
Pour into a deep dish pie pan. Cut strips of pie crust and make a lattice or patchwork pattern out of them. Layer on top of pot pie.
Cook for about 45-50 minutes or until top crust is golden brown.
I'd never made a pot pie until I moved back to Raleigh in 2010.  My boss's wife – and friend – made a delicious one and said it was so easy – well, this one is too and has wonderful Fall flavors!