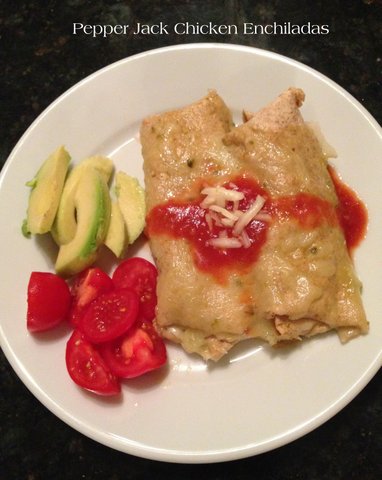 Some moms ask me how in the world I make dinner and bake and cook the way I do with two littles two and under.  Well, its not always easy and you have to do what works for your family (like mine is really easy or fast food healthy-ish lunches) and leftovers so I'm not cooking everyday.  My mister also gets home at the boys' bedtime, so I can cook our dinner as they are eating theirs.
So, I whipped this together in a couple of steps.  I relied on Publix with a Mojo Rotisserie Chicken.  Pulled it apart a few days ago and made stock.  Froze the stock for later.  Kept the chicken in a bowl in the fridge.  Then as the boys were eating their dinner, I was working in the kitchen right beside them (to make sure they didn't toss things on the floor, which did happen) – I was talking with them, playing with them, showing them what I was doing (I do want my boys to love to cook if that is the Lord's plan).  These were in the oven in less than 20 minutes.  Then as they baked, I had time to put my younger to bed and read to my older one, then come back, put some cheese on top while my older was watching some Thomas the Train waiting on Daddy to arrive.  Easy!
Pepper Jack Chicken Enchiladas
Prep time:
Cook time:
Total time:
Spicy creamy healthy chicken enchiladas
Ingredients
1 small onion chopped
2 cloves garlic, minced
evoo
small can green chilies, diced
¾ cup black beans, rinsed
¾ cup corn
1 can cream of chicken soup
¼ tsp each cumin, pepper, salt
2 cups chopped cooked chicken
8-10 soft taco size whole wheat tortillas
1 can green chili enchilada sauce
1½ cup grated pepper jack cheese
Instructions
Preheat oven to 375.
Spray 9x13 pan with pam
In a cast iron skillet, heat oil and saute onions for about 3 minutes.
Add garlic and chilis, saute another 2 minutes.
Add beans, corn, spices, and soup. Stir until heated through.
Add chicken and stir until combined and warm.
Scoop filling into tortillas and roll
Place seam side down in 9x13 pan.
Top with enchilada sauce.
Bake for 20 minutes.
Top with cheese and bake another 10 or until cheese is melted.
Serve with avocado, tomatoes, salsa, sour cream, cilantro, tortilla chips, etc.