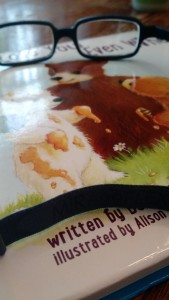 One of the best things that my husband ever said to me before we had children was that they would know how to be affectionate because I was their momma.  I cling to that these days when the discipline is so hard.  I still love getting their hugs, wrestling with them, tickling them, and having them give me kisses and hold my hand.  I will take it all.  It is one of my favorite things about being a mom!
There are so many children out there who don't get the love they need from loving adults (whether it is their parents, other family members, or loving adults in their lives).  One of the reasons we wanted to settle on a church quickly when we moved to the metro area is so that the boys would get familiarity from other adults besides us.  They would get to know their SS teachers, pastors, friends' parents. They would be shown love.
Some say it is hard to love when you have to discipline a child.  It is hard.  Disciplining is hard.  But disciplining them (when done with a correct action and spirit) is loving.  God loves us, his children, when he disciplines us and he is always love.
Tommy Nelson just released I Love You Even When, a book for toddlers.  It is a foam board book but has enough letters that it would be a great book for those learning to read.  Animals are a usual high attraction for most children and these illustrations are cute.
Good points about this book: God's love is unconditional.  Helpful illustrations that will be perfect for most toddlers and the messes they get into.
Questionable – not bad, but just some points to talk about with your children as you read through it together – our kids should not feel they are more accepted and loved by us (their parents) when they obey.  That only teaches them legalism.  If you need a good book to talk more about this go here.
If you want a copy of this book, just leave a comment either here or on social media and answer the question: what is one thing your toddler does that as you are disciplining them you are trying not to laugh (yes, kids do the darndest things).