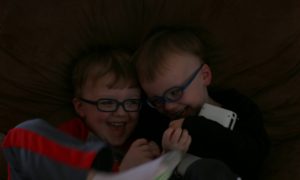 At the end of the day, motherhood can require a lot of us and we can be exhausted.  We might be longing for a glass of wine, a dessert, a bubble bath, or just the ability to sit down and binge on Fixer Upper.
But, if we are faithful in finishing the day well with our children, we will reap the blessings.  I am usually the one the put our sons to bed since my mister works retail and most evenings he gets home after bedtime.  Depending on how the day has gone, I'm really just ready to turn off their lights and shut their doors.  After brushing teeth of course!
I want to improve on my daily time with them at bed time. If my mister is home, we read a Bible story and each have time with one of our boys.  I usually take the older and tuck him in or read him some Little House (we are working through this series).  He sings the younger one a song and tucks him all in nice and tight.
The area I want to improve is the nights when I'm by myself, to actually read them a Bible story, pray with them, and then spend time with each of them in their rooms.  Singing or reading or just talking.  It may take an extra ten minutes, but I know that time is precious and I won't get that back.
The resource we are going through now is the Bedtime Read and Rhyme Bible Stories.  I like it more than I thought I would – and I usually continue the rhyme well after I'm done reading.  It is note quite as crazy as Dr Seuss, but still fun.  The pictures are engaging for the kids and the rhymes make it fun.  Then the prayers at the end of each story allow us to focus our prayers at the end of the day.
How do you need to rescue or reprise bedtime?  What have you read at bedtime or done that makes that transition easier?
You can answer the questions above for an opportunity to get this hardcover book for you and your family.  Thanks Tommy Nelson Mommies for the book. All opinions are my own.