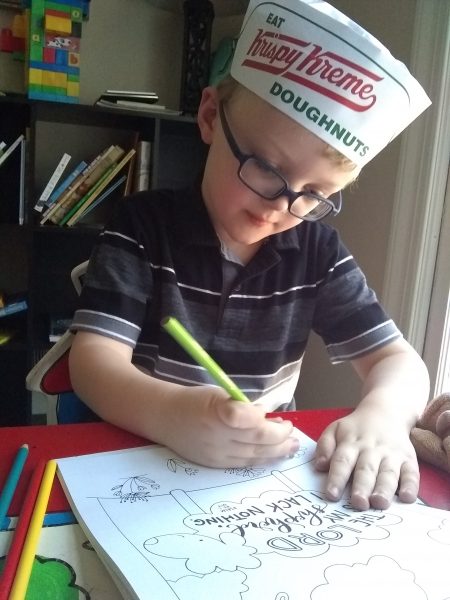 When we set up our new home in late this summer, I knew I wanted to have a creative area for my boys.  A place where they could have coloring books, playdough, markers, colored pencils, etc – just waiting to sit and get all their creative juices out!
Well, we set up a little Goodwill table that I found before we moved, and put some bins of creative tools around it – and they sit their every day.  I love it.  I love having pieces of paper all around the house with scribbles and drawings on them.
Another great tool I've found for my boys is the Big and Little Coloring Devotional.  I found out about this devo coloring book from my friend Sarah on her podcast with the author Rachel Swanson.  Then I got to be a part of the launch team.  So much fun!
It is a top flip coloring book, made for two people to be coloring at once.  So, I've been sitting across from my older, him coloring, me coloring.  And the neat thing about this particular coloring book is that it is based on Scripture.  So, one side will have a (younger age) coloring page with God's truth on it, the other page will have a more detailed coloring page with a short devotional on it.  These devotionals are perfect for you to read, be encouraged, and it may be a jumping off point for you to share these truths with your child – AS. YOU. COLOR!
Such a great activity for you and your child to do together.  And Christmas is coming – its a perfect gift for any mom of littles you know – I would say even up to 10yo or so – girl or boy.  So, grab some colored pencils, crayons, or markers, and get coloring – and shepherding your soul – and your child's!