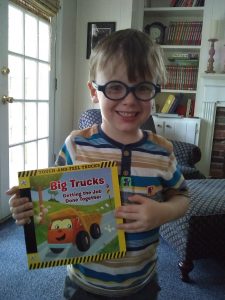 Ever since my boys were little, they have loved mighty machines.  There was a show called Might Machines on Netflix for years that we watched constantly.  Always singing the songs.
My older boys favorite word before he could really talk was "boowah" – for bulldozer.
Tommy Nelson sent me a great book called Big Trucks, about these mighty machine friends.  It is a touch and feel book so it is helpful when teaching toddlers about tactile and touch and feel things.
I love the touch and feel aspect of this book, but also the encouragement between the main characters and the fact that they work together..
As soon as the box came to our porch, we opened it up, and have read it several times already. And now the younger is showing the older all about the touch and feel parts.
Great book for toddler (boys, especially)
Do you want to read this with your toddler – You can win one.  What was the first fun thing your child would say?
Thanks Tommy Nelson.  All opinions are my own.