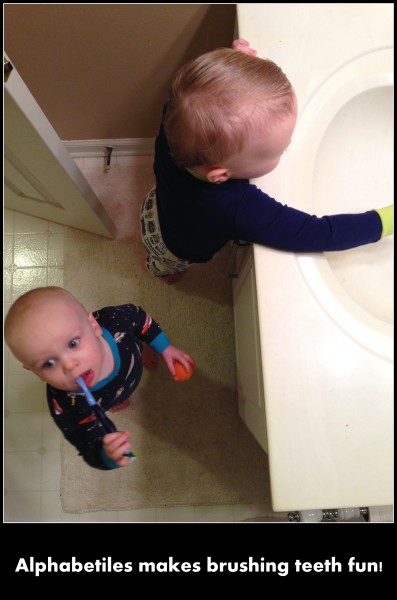 Another holiday has come and gone.  And my kids, along with 99% of the children in America who received Easter baskets, are probably downing candy and sneaking it in their rooms to munch on under the covers once the lights have gone out.
How can we as responsible parents help our children with their love of candy?
1.  Ration it.  Don't give it to them all at once.  My older son calls candy "olly" and I don't know why.  But, I give him a few jelly beans or m&ms and then he's off to play some more.
2.  Treat not a right.  Help children to see that candy isn't their natural-born right.  It is a luxury and they don't need it every meal or every time they do something good.
3.  Exercise.  Movement is a great way to encourage children to be active, learn new skills, and work off all that candy!  I was heavy from about first grade on.  I still struggle with my weight.  One of the things I want for my kids is the ability to have fun snack foods (sweets) but not to be overweight – so encouraging lots of healthy stuff and exercise.  My chiropractor always says "If you stop moving, your dead."  We want our kids to live a long life.
4.  Brush their teeth.  I am not a dentist, and I don't play one on television – and truth be told, my husband brushes our boys' teeth at night after bath time.  We've used toothbrushes that are easy for them to grip, fit perfectly in their little mouths, and that are fun.  Alphabetiles provide toothbrushes that are just that.  Our boys are both under three and both love to brush their own teeth.  The new Alphabetiles toothbrushes that we received are blue (perfect for boys) and have their name spelled out in little tiles.  The tiles are easy to slide in the toothbrush and you can change the name out whenever you want (to a special nickname, or sports team, or holiday!).  I assembled their special toothbrushes while my husband was out in the backyard playing with the boys.  Jennifer, one of the creators of Alphabetiles, out of a desire to help her own children be healthy, designed these personalized toothbrushes.  "There was nothing on the market for moms like myself except a magic marker or stickers. So I decided to take the path and make it myself. I knew I was not the only mother with this issue and seen how it could help lots of families. Our design encourages kids to want to brush and parents know who their toothbrushes belong to."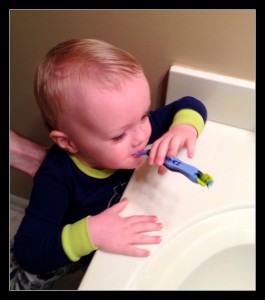 My boys immediately liked their new toothbrushes and run to the bathroom saying "water, water" in order to brush their teeth.  We, as their parents, grab the right toothbrush (not sharing any more germs than they already do), and put a little toothpaste on it, and they go to town.  Another great benefit to having young children and personalized toothbrushes: you can have the sitter help them brush their teeth because she won't have to know which one is which – she can read their names on it.  Brushing teeth is a fun and healthy bonding time.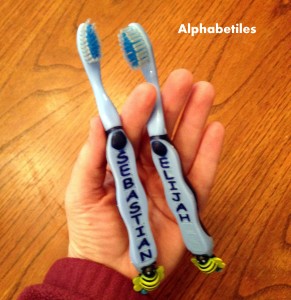 I would love to see Alphabetiles get more tiles and logos for their toothbrushes, which hopefully will come in the next few years (Go Gators, Go Tarheels, Thomas the Train, Mickey Mouse, etc).  Think of how your children would flock to the bathroom to grab their toothbrush, with their name, with their favorite basketball team logo on it.
So, whatever you do, be sure to instill happy, healthy, habits in your children, as soon as you can.  Their teeth, your dentist, and your children will thank you!
Alphabetiles sent me two toothbrushes in exchange for a blog review.  All opinions are my own!