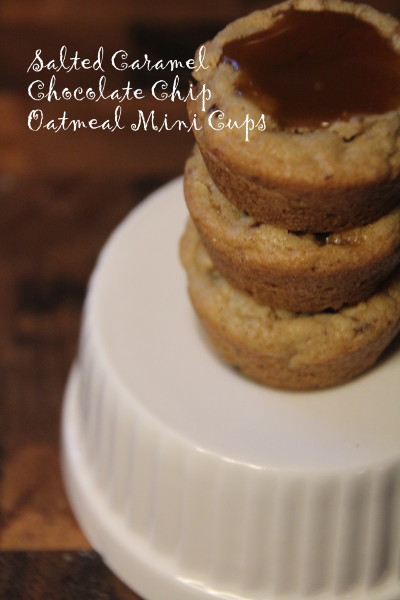 Every time I open my fridge, I see this bowl of Brown Eyed Baker's salted caramel sauce staring me in the face.  Its like its begging me to make something with it, or just dig in with a spoon.  That's what spoons are good for, right?  Eating caramel!
While I was visiting a local bakery on Friday (interview and photos coming soon), I was inspired to use it in a different way.  That different way came about in my kitchen today.  Husband ate them – right out of the oven, before the caramel even had time to set!  They are that good.
Here are two important criteria to remember when baking these: quality contents produce quality baked goods.  The two stars of these mini cups are the salted caramel and the chocolate.  I used a Dutch bittersweet chocolate for some of the chocolate in these cups and then the homemade salted caramel.  Taste matters when baking – not just precision!

Salted Caramel Chocolate Chip Oatmeal Mini Cups
Prep time:
Cook time:
Total time:
Caramel and chocolate - any complaints?
Ingredients
1 cup packed light brown sugar
1 stick unsalted butter, softened
1 egg
1 tsp vanilla extract
1¼ cup all-purpose flour
1 tsp baking soda
1 tsp sea salt
½ cup whole oats
2 oz semi-sweet chocolate chips
3 oz bittersweet chocolate (I used Droste Dutch chocolate)
Salted caramel sauce (I use the one on Brown Eyed Baker)
Instructions
Cream butter and sugar. Add egg and vanilla. Cream until smooth. Add dry ingredients then fold in chocolate and oats.
Fill mini baking cups with one scoop - about 24-36 cookies.
Bake at 350 for 12-14 minutes.
When you take them out immediately mash down the top to form a little holder for the caramel.
Add a half teaspoon to the top. It will melt and then harden up as cookie cools.
Enjoy with a tall glass of milk and a good book. Share if possible.