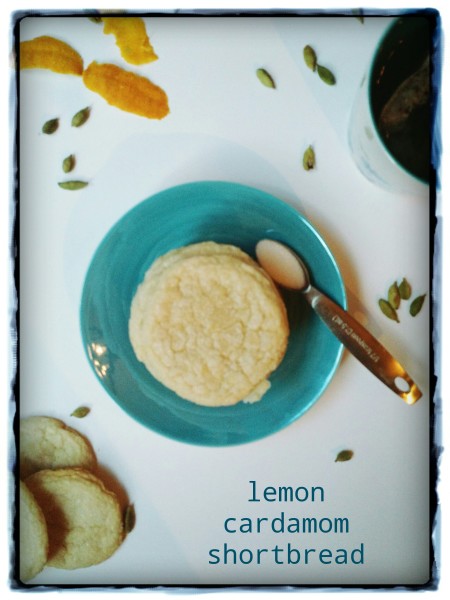 Cardamom is definitely my favorite go-to spice with anything berries or citrus.  It just lends that special "oomph" and "hmmm, wonder what is in there" to any recipe.  I have made some cardamom sugar with the pods and always have ground cardamom in my spice "basket" (a wine box I found at Goodwill which I love and am always in search of another one for cheap).
Anyway, I had to share this recipe tonight!  Just in case you have tons of lemons and you just have to have cookies with your decaf tonight!
This recipe is a shout out to Cheryl Day who owns Back in the Day Bakery – my fave cafe in my favorite city in Georgia, Savannah.  I tweaked her recipe and oh by golly is it good (and her's is stellar too by the way).

Lemon Cardamom Shortbread Cookies
Prep time:
Cook time:
Total time:
Perfect chewy shortbread for that cup of coffee!
Ingredients
2 sticks unsalted butter, softened
1½ tsp lemon extract (I love opening the bottle of this, smells amazing)
¼ tsp sea salt
1¼ cup 10x sugar
2 cups all-purpose flour
zest of two lemons
⅛-1/4 cup cardamom sugar (for sprinkling on top before baking)
Instructions
Heat oven to 350.
Spray sheet pans with baking spray.
Cream butter. Add in salt and lemon. Combine sugar and zest. Then add in all purpose flour. Shape into balls with your hands and gently press them down (I'd love to find a pretty cookie press for this one, a simple, antique one would be great).
Let chill in fridge for 2 hours.
Sprinkle cardamom sugar on top of each cookie.
Bake at 350 for about 10 minutes.
Cool a little - then devour them warm, or wait until morning.