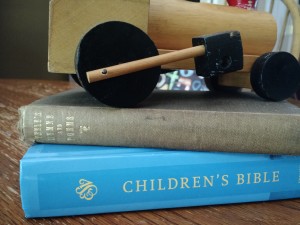 My son is nearing three years old.  A few times we have kept him in our church's evening prayer service just during the time for the singing.  He does remarkably well, especially since Daddy is usually playing the piano and he doesn't yell out "Daddy" during the last stanza of Be Thou My Vision.  We will start keeping him in more because we want him to learn to be in the "big church."
It is hard to think about this.  As a parent, I do like the "break" for my active toddler boys for a little bit on Sunday mornings, knowing they are getting solid teaching and fun in the kids' area.  But, I also want them to learn to worship with adults in "big church".  I don't want to have to break them from the motions and screaming singing and then for them to hate big church because its boring.
Having children in the services at your church is so crucial.  They hear the gospel.  They worship with mutliple generations.  They learn to listen.  And parents can be a model for them of how to listen, interact with other believers, and engage with the Word of God.
What is one way that a church can make it clear that children are welcome in the main church service?
Have children's Bibles in the pew.  I great younger children (preschool) Bible would be the Jesus Story Book Bible.  I love the pictures and some children who are able to read can pick out the smaller words or even have worksheets that go along with different stories or just a blank notebook.
A great new older children's Bible is the Crossway ESV Children's Bible.  It is actually a Bible.  It has pictures that are colorful and would appeal to children (say ages 8-10).  The resources are great for curious minds who want to learn more about the Bible: a dictionary, maps (I miss maps in my Bibles), a topical index, a timelines for Christ's ministry, a very abbreviated systematic theology page, other detail information and more timelines.  It is hardcover so that makes it durable.  It feels just like a Bible and would sit well in a pew rack.  And children can learn to follow along with the pastor, especially if your church uses the ESV during sermons like ours.
This would be a great Bible to give your child if he/she accepts Christ during this age range (again, 8-10ish).  I still have my first Bible (that I can remember).  It is always special.
Thank you Crossway for this Bible for our children!  (This review is my own opinion and the Bible was given to me by Crossway).