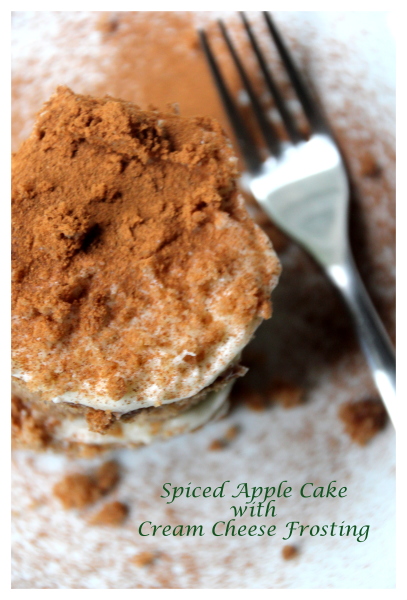 Fall equals apples to me.  And I had a reason to make a cake today: because I had a bag full of apples.  And I had a spice cake mix so all I had to do was run to my neighborhood Publix and get some cream cheese.  Because we all need some good creamy rich cream cheese frosting every now and then right?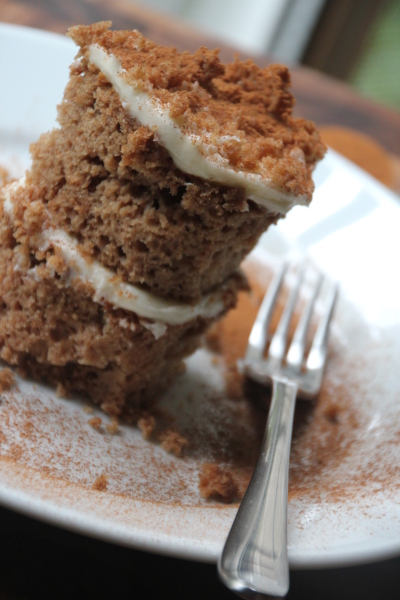 This is simple and moist and definitely a winner.  Enjoy tonight!

Spiced Apple Cake with Cream Cheese Frosting
Prep time:
Cook time:
Total time:
Moist, perfect fall cake with a thick layer of cream cheese frosting
Ingredients
1 boxed spice cake mix
3 eggs
1 cup water
⅓ cup vegetable oil
3 cups chopped, peeled gala apples
1 8oz package of cream cheese
2 cups powdered sugar
1½ tsp vanilla extract
4½ T unsalted butter
Instructions
Mix cake according to box instructions.
Add in apples before baking.
Spray pan and cook according to box instructions.
Let cool.
Mix cream cheese and butter.
Add in vanilla
Add powdered sugar until frosting is smooth.
Frost cake.
Eat.
I cut circles out of the cake and just set a double layer and made naked cakes with just layers of cream cheese frosting. Sprinkled some cinnamon on top.