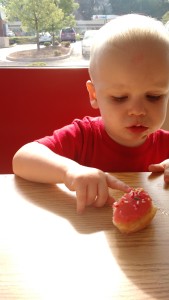 Let's talk about the price of inflation.  Not really – but I know if I even mentioned that to my Papa, who turned 92 last month, that I would get to sit near him and listen to his rant on the government and it would take the same amount of time as it would for me to let bread rise!  But seriously, when did food get so expensive?
This whole living on a grocery budget is really hard when you like to cook.  We are tighter but when you have two growing toddler boys and a mister who needs three meals a day and you are trying to eat healthy – it is hard.  Fresh produce is expensive and we don't want to live entirely off of chicken nuggets, mac and cheese, and peanut butter sandwiches.  Couponing is something I don't have a lot of time for, don't want to do, and most of the items we buy don't come with coupons.
So, we will get through this month because God is good and my boys won't starve and I'm not going to gain 5 lbs.
Spaghetti (because I already have some sauce in the freezer from when I doubled a recipe before)
The Forest Feast's butternut squash caprese salad
Leftover fig and balsamic pork tenderloin
Chickpea and spinach curry (also leftover from last week)
I'm making PW's French silk pie for a Sunday meal we are having with friends – but I love the way my friend Jenny talks about it over on her blog.