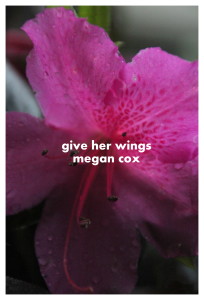 I feel like the title of the book should be a country song – but I won't venture there.
This is a more serious book with a serious message, not appropriate for a country song.
Megan Cox has become a friend of mine through another friend, and she has such a heart for ministering to women who have come from situations that no woman would desire.  She shares much of her story in Give Her Wings, and that is one of the reasons that Give Her Wings is such a powerful book.  When women share their story, where God met them, how God brought them new life from death, created a new heart where only death lived, it is a miraculous story.
She shares her story in this book and offers hope and counseling to women who might be struggling in similar situations.  She ministers to women with God's truth on her lips and understanding in her heart.  This book speaks of that understanding and also can be used as a guide in how to minister to hurting women.
One of the best things I've read in this book is the following:
"Speak God's truth into her life.  She Scriptures that encourage and comfort.  Remind her she is not alone.  Bless her with the Word.  If she heads condemnation, her crisis of faith may very well tip to the wrong direction." (pg 89)
There is a spot of time that women who are coming out of hurting relationships are open to hearing God's truth. Relationships can be redeemed by God's Love and Justice.  He can bring healing.  And it is books like this that offer that Love, hope, and truth to hurting women.