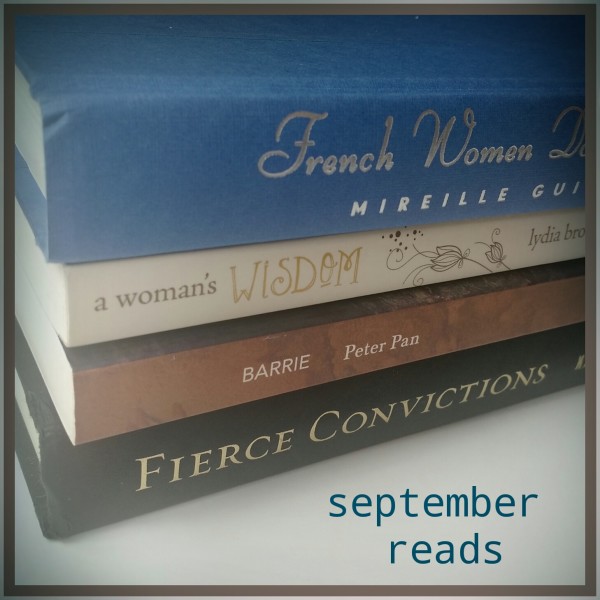 I think reading is one of the best ways to better yourself.  If you are reading the Bible – it is about learning the gospel of God to know God better.  If you are reading a cookbook, then you want to make your cooking better.  If you are reading a comic book, you want to laugh better.  Get it?
Before I get to the list of mine for this month, I want to encourage you to go read this post by Doug Wilson about how to read more.  It will be of benefit to you.  I know lots of seminary profs who are friends that read several books a week.  I don't read that fast.  I would love to get through 2-3 a month.
So here are some I'm reading this month (mostly finishing up, because I've started all of these – and only have a few pages left in some, but I want to complete!!)
French Women Don't Get Fat: I am so far loving this book.  I read it at night and it gets my mind reset to keep on my healthy journey.
A Woman's Wisdom: This is a great book and helpful to women.  Lydia Brownback writes clearly to help women in any stage of life know how to apply the Proverbs to their lives.  This will be extremely helpful to me this month, especially in my parenting journey.
Peter Pan: I love any movie about Peter Pan – and I want to get to know more about Barrie in the future.  My mister and I are currently watching Hook which he has never seen, which I personally think is one of the late Robin Williams' best roles.
Fierce Convictions: This is a biography that is about God, the gospel, justice, and women.  It is great – and I only have a little bit left to finish it.
What are you reading this month?