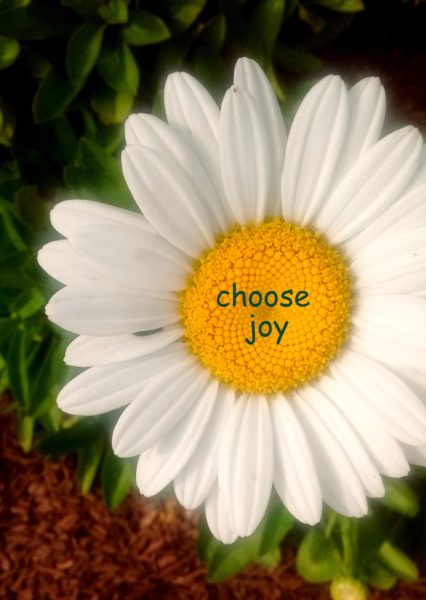 In light of all the hate around us, we can choose joy.  Choosing joy is within us, because the Holy Spirit lives within us.
In the hate-filled world we live in, in which we are raising children, in which we encounter all sorts of situations that are just waiting to dump rain on our parade, we can choose joy.
Joy is not the same as happiness.  Happiness is based upon our circumstances.  Joy is based on something deeper, more abiding, and longer lasting – it is based on the character of God and the joy that He gives because we know that He is supremely in charge.
How can we cultivate choosing joy when so much around us is joy-less?:
 Surround ourselves with pretty things.  Yes I know this is superficial, but if I include fresh flowers, yummy treats that are pretty to look at,my happy smiling boys, together time with my mister, sunsets, and good books – if I include them in my day – those things help fuel a joyful attitude.
Memorize Scripture.  There are so many Scriptures that will help us fuel the joy that is within us.  Romans 15:13 and Isaiah 12:6 are great ones and easy to memorize.  Write them down and keep them in visible places.  (If you want a joy verse handlettered, just hit me up for a custom handlettering job).
Be grateful.  Keeping a gratitude journal or reading books on gratitude will help you as well.  I've just started 1000 Gifts and I love Choosing Gratitude.  Such a great help in keeping our minds on the little blessings God has given us.  And these would make great activities any time of the year.
Write snail mail.  Sitting down to write mail to others, and even send little gifts, help me remember why I love people.  I love seeing the best in them, encouraging them, and adding some beauty to their days. If you need some new stationery these are perfect for any occasion (or no occasion at all).
What are some ways that you choose joy in your life?  How you do encourage your friends and family to cultivate and choose joy?