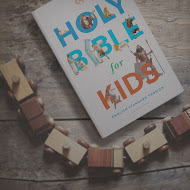 We have so many kids' books in our home.  We have them in our cars, in our living room, in the toy box, upstairs in both of their rooms, in our master bedroom on our nightstands, and in the hallway outside their rooms just in case they need to find one on their way to the stairs. And we get more every month.  Yes, I give some away, some to other moms, some to our church nursery rooms, and some to goodwill.  If the books are very well worn, then they just go in the recycle bin.
However, out of all the books we have, the only one that has authority, power to change their little hearts, and shape their souls and hearts and actions is the Bible.  It is the belief of "sola scriptura".  One of the five solas of the Reformation.  Basically, (taken from wikipedia) it is :  the Christian doctrine that the Bible is the supreme authority in all matters of doctrine and practice. Sola scriptura does not deny that other authorities govern Christian life and devotion, but sees them all as subordinate to and corrected by the written word of God.
And that is one of the reasons I love Crossway and the ESV Bible.  They publish books that are so full of Scripture and are such a good help to their readers.  They also design great Bibles, for adults, and children.  I personally have used their Journaling Bibles for almost 10 years now and LOVE them.  And one of their new ones is a hardcover ESV Children's Bible.  Think back to the 70s and those picture Bibles:  Now, erase that memory from your mind's eye and picture realistic pictures, larger print, maps to help your children get a heart for the world that God so loves, and a concordance to help studying the word easier for little minds.
Here's a simple way you can ease in to family worship if you don't already do anything.  Using this Bible:
 Start in the Gospel of Mark, one of Paul's letters to the churches, the Psalms, or even Proverbs (especially if you have older children).
Read a short passage.  Have them read it if they can read.
Talk to them about who God is, who Jesus is, what the passage says about man, and what it says about the gospel.
Pick one verse the passage to help your children memorize.  You may stick to that one verse all week, or depending on how old your children are, you may do a few a week.  Kids can memorize the Word of God!
Pray with them.  Pray the Scriptures you just read.  It will help them understand them.  Pray the Spirit would give them a new heart that loves the Word of God and loves the Jesus who died for them.
Family Worship doesn't have to be long and hard and have a lesson plan written out.  It can, or you can just read the Bible with your kids, talk about it, and pray.  And believe me, the Spirit will be molding your heart as well.  His Word is good like that.
Thank you Crossway for this Bible.  All opinions are my own.