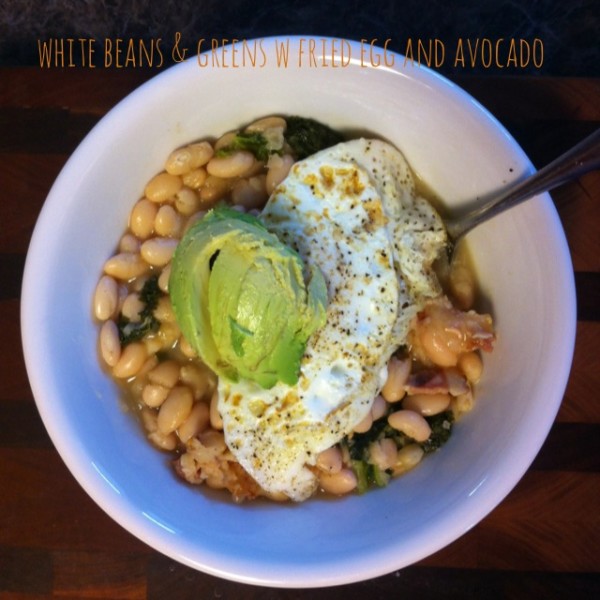 At the end of a long week I just want quiet, slippers, a few NCIS episodes, my mister, the boys asleep, and a bowl of comfort food.  Yes, I said a bowl.  I think most comfort foods are probably comfort foods because they are bowl worthy.  Bowl worthy: sitting cross-legged on a roomy couch, flannels on, slippers kicked up, wrapped in a blanket, holding a bowl filled with warm food you eat with a spoon.
Delicacies that you could easily put in this category: paella, macaroni and cheese, chicken and rice, or this bowl of white beans with all the extras.  I'm very thankful for the beautiful photography of Jessica over at How Sweet Eats for making a bowl of legumes look exciting.  I wanted to try it.  Knowing me, I tweaked it and added some of my own.  People have asked if it turned out well and I said yes – grab a spoon!

White Beans & Greens with Fried Egg and Avocado
Prep time:
Cook time:
Total time:
Classy legumes filled with other comforting tastes
Ingredients
¼ lb bacon, chopped
½ large onion, diced
¾ tsp red pepper flakes
¾ tsp kosher salt
¾ tsp black pepper
¼ tsp sweet Spanish paprika
1 box chicken broth
water to cover the beans
1 lb great northern beans (soaked overnight)
3 parmesan cheese rinds, diced
1 bunch kale, chopped
1 bunch spinach, chopped (just the leaves)
Instructions
In a big pot, fry up the bacon
Saute onions in bacon grease
Add spices and sauté for a few minutes until aromatic
Add in broth, water, and beans and parmesan rinds
Bring to boil, cover, and simmer until beans are done, about 80 minutes.
Take a potato masher and mash some of the beans. Add in the greens and cook for about another 15 minutes with the lid off.
Fry an egg. Chop and avocado. Add them to the top of a big steaming bowl of beans.
Two years ago:
Two New Journeys