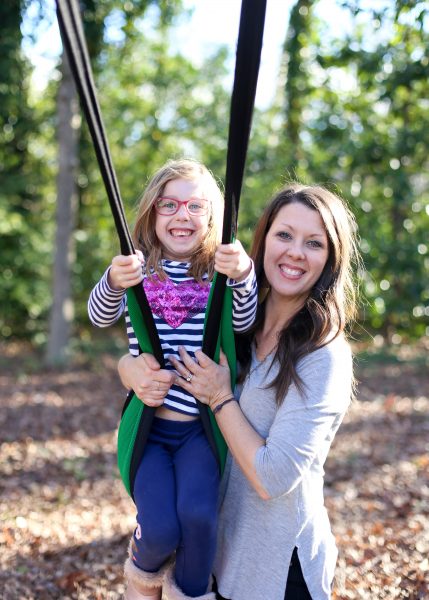 Though we are no longer Atlantans, I still think of many of the friends that I came to know during our 3+ years of living in the city.
One such friends who welcomed me into her world, listened over coffee, prayer, empathized, cheered on, and encouraged me in the Gospel, was Sarah Bragg.  She is a podcaster, wife, mom, author, cheerleader, and gingham-wearing, coffee-drinking friend.
Her podcast has been such an encouraging feed to me over the last year and I encourage you to go read her blog, her book, and hear her talk to many others, championing what they do, and encouraging women along the way.
So, here's a little interview with her.  I hope you love her as much as I do.  Friend, I'm thankful for you!
1.  Can you tell my tribe a little about who you are?

I am in my late thirties (its strange even typing that), married to Scott for 12 years and we have two elementary age girls, Sinclair and Rory. I worked full-time student ministry for about 6 years and then transitioned to work for a non-profit organization, Orange, who helps equips those to work in ministry. After creating resources for middle and high school students, I currently lead a team who creates small group material for adults. My first book, Body. Beauty. Boys. The Truth About Girls and How We See Ourselves chronicles what I wish I'd known when I was a teenager—how to learn to be content to be who God made me to be. But my most favorite and fun thing that I do is host a weekly podcast called Surviving Sarah where I get to have conversations with different people about how they are surviving life. We talk about all the things that relate to women.
2. With so many other forms of "social", why a podcast?

Before kids, I used to travel and speak to young women or women groups around the country. I absolutely loved using my voice to inspire and encourage others. But when my kids were little, it was difficult to even put words together to form sentences so using my voice stopped. As elementary school approached for my kids, I would pray, "God what do you want me to do?" And for two years, I felt like God answered with, "I want you to push others forward." But I didn't know exactly what that meant. I would tell God that I just wanted to use my voice again. I liked writing but I loved speaking.  I was still unsure of what God would do. But in October of 2015, God spoke to my heart and said, "I want you to start a podcast so that you can use your voice to push others forward." I still get to inspire and encourage women while shining a light on the guest on my show.
3. I know you learn so much from each person on your show, but has something really stood out to you in the past eps?

With nearly 100 episodes in the books, I have had several favorite episodes. For me, my favorites tend to be ones about motherhood since that is the state of life for me. I've loved chatting with Sissy Goff, David Thomas, and Julie Barnhill. And one of my all time favorite episodes was with Suzanne Stabile, the author of The Road Back To You, as we discuss what the enneagram is and how when you understand who you are wired or those around you, then you are able to extend grace more for yourself and others.
4. How do you balance it all?  Is balance such a thing or just this lofty idea?

I definitely wished that I was able to balance it all. Most days I feel like I'm dropping the ball on something. I think it looks different in different seasons. My kids are a priority, but in this season I can't volunteer weekly in my kids school. I can't lead in the PTA. And I can't bring homemade cupcakes to the Christmas party. I have to be realistic about my schedule and my own limitations. But I can send in money to help with something. Or volunteer once a month in their classroom. It also requires some effort on my part to schedule well. And not just my work hours, but family hours and personal hours. Some days are good and some days are a struggle. And at the end of the day, I have to receive a lot of grace. 
5.  I love your thoughts on hospitality and your kitchen table, your intro the blog each week. Can you talk about how you use your home for hospitality other than your podcast guests?

I have learned a lot over the past several years about not waiting for perfection until you allow others to step into your world. If we wait for perfection, then we'll be waiting for a long time. Hospitality is about letting others in. It's about sharing what you have. It's about vulnerability. I want our home to be a place where people are welcome and feel comfortable enough to be their authentic self. So we have people over for dinner or impromptu sprinkler fun outside. In fact, our front yard has really become an extension of our home. We spend a lot of time in the front yard. My girls know all the dogs in the neighborhood. It takes effort to know the people around you and sometimes the last thing you want to do after a day of working is to talk but that is what hospitality is. Come as you—even if its messy or untimely.
6. If I was still in ATL, and we could sit down at your fave place to chill and chat…where would we go and what would you be drinking?

Well, that depends on the time of day! But my favorite place to sit and chat with someone is my local Starbucks. I can always count on my drink being just right. And I always see people I know from the community. In the summer months, my drink of choice is an iced coffee with cream and vanilla. In the winter months, I stick to a Misto which is basically coffee and steamed milk.