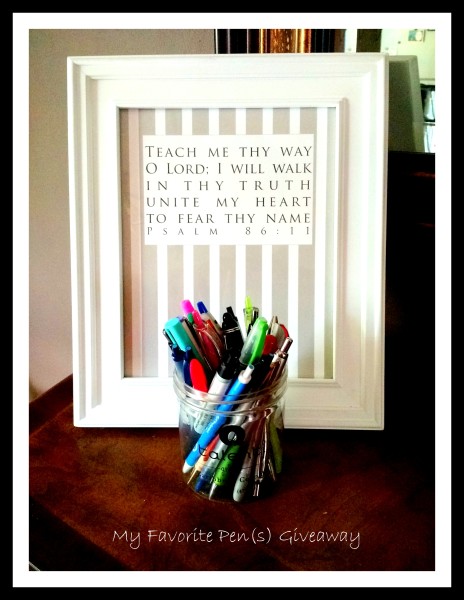 Admitting you have a problem is always the first step in recovery, right?
I have a pen problem.  I have TONS of them.  Most of them are ball point click pens that come from church, organizations, medical supplies, previous jobs, conferences, etc.  But I'm hear to tell you about some pens that should be near the top of your list as well.  And head on to the bottom for a giveaway!
So, I'm going to talk about some pens here – and my thoughts.  You might not agree with my thoughts – because pens are like kitchen knives: you have to know what you are going to use them for, and grip them in your hands, then you will know which ones are right for you.
My fave pen for every day writing: Poppin Pens.  I had a free coupon and got a box of these.  Love the bright colors and the medium tip.  They are fun.  They write smooth.  I'm glad I got them free because they range about 1$ a pen.
My fave pen for everything else: Staedtler.  Oh my.  These write smooth and help me to write like I want to write.  Its that easy.  They are heavier pigmented so they can be seen from the other side of my Journaling Bible – but that's ok for me. (And if anyone needs a gift idea for me for Christmas or birthday or just because, the pen set I have linked here would be marvelous)
Runner-ups:
Frixion: a friend of mine gave me some of these.  They didn't write smooth enough for me – but I loved their fine tips and there erasability.
Sharpie Pens: these really are stellar – they just don't come in enough colors for me (so that's why they aren't my fave pens)
LePen: I remember writing with these in my younger days. The only reason they aren't my favorite (because I love their colors and their writing size) is because they seem to be delicate.  I find myself writing with a lighter hand when I write with these.
PaperFlair: These are really good too, but just are too generic for me and don't come in enough colors.  But, I really like them for every day lettering.
So, to win this giveaway (which is for all you weekend people – ending Sunday night at 9pm) – all you have to do is leave a comment telling me what your favorite pen is  How simple is that?  Winner will be chosen and get some of my favorite pens!
Oh, and this lovely print in the above photo is from Kristin Schmucker