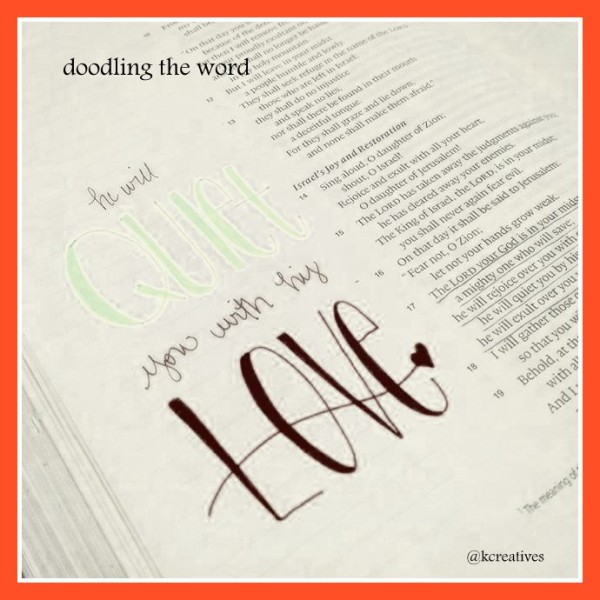 Everyone has gone through phases in their spiritual journey where focus and energy and excitement about the Word has been less than enthusiastic.  I remember hearing a great word from the woman in my life who loves and knows the Word the best and it went something like this :
even when you don't feel like it – keep doing it – be faithful – God will bring fruit and excitement
That is so true.
One of the ways that I stay focused in my time in the Word (both during studies, classes, services, and personal devotions) is doodling.  Most people might read that and say that I'm not focusing or I'm tuning out – but on the contrary.  Doing something with my hands engages my mind and actually helps me listen and engage more (internally, as I've gotten less apt to speak aloud in a class).  Doodling helps me focus on certain words in the Word or in the book or from a sermon or class that is being taught – or maybe its a lyric from a hymn.  Doodling helps me remember what I'm learning.  And isn't that the point of Psalm 119: to get the Word in you so the Spirit can help you remember it when you need it – which is always?!
So, I thought I would share some tips – if you want to start doodling, or drawing, or lettering, or anything:
 The focus of doodling is not you – but it is engaging the Word into your mind.  An example: as I was lettering Jeremiah 29:11 this morning, and as I prayed it for a pray names art I did for a sweet little boy in Virginia for a Christmas present – I was thinking of the words wholeness and know that are in that verse.  I was thinking of the verses after it.  I was thinking that these verses are especially popular for kids and teenagers, but how true are they still today when I'm a wife and a momma of two little boys and we don't feel settled in life and don't know what is next.  Even then – even this morning – I need to know the truth of that verse. How sweet the Word is to my soul!
Grab a pencil or any writing instrument you want.  I use micron pens a lot, I love pencils, I love Staedtler pens and Le Pens too.  Whatever you want to write or doodle with.  Just grab it.  It doesn't have to be name brand or cost much of anything.  You can grab dollar store pens and have them on hand for all that doodling.
Start doodling.  The good thing with doodling is it doesn't have to be perfect.  And its your doodles.  I doodle words mostly because I'm not a good artist.  I love lettering – always have.  I've always loved writing, journaling, writing out prayers, etc.  And experiment.  If you really like some lettering you've seen – try it out.  You'll never know unless you try. Pinterest and Instagram are great places to start if you want to find some new fonts to try out and practice.
That's all there is to it.  Happy doodling.  And I pray that your doodling is fruitful in helping you understand and meditate on the Word!  And this is a great summary of Don Whitney's thoughts on meditating on Scripture.  You can do a lot of this by doodling – not just thinking.