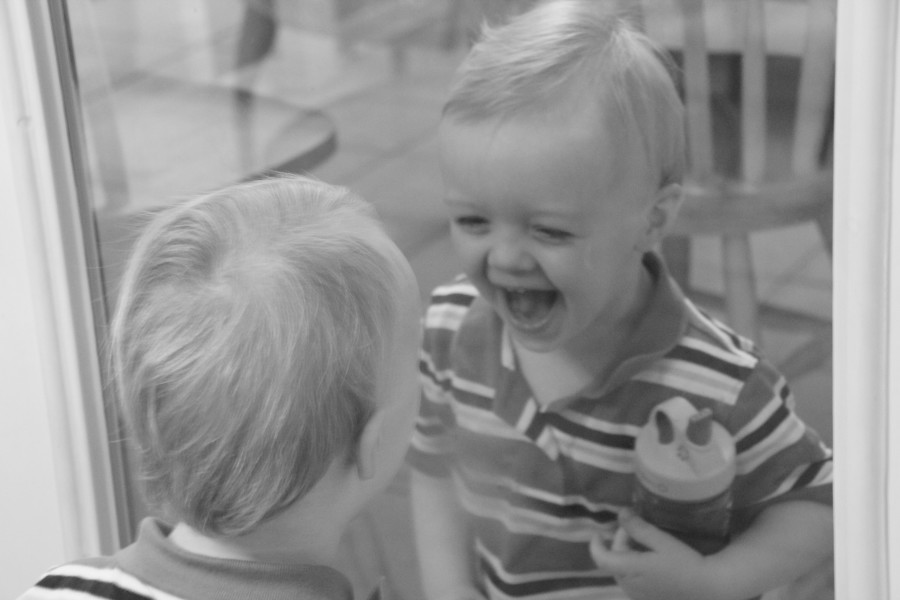 I love each night when it comes to bedtime and I get to read to my boys.  Ever since I had children I dreamed of reading to them – and one day hearing them read.  It is a snuggly time (and a wiggle time some nights).  I also love to see them flip pages in a board book – on trips, in their beds, or in the big comfy sofa chair we have in our living room.  It is a sweet time.
Tommy Nelson just put out a book called Mommy Loves You So Much (don't worry, Dads – your book is coming soon).  It is a sweet and endearing board book full of animal mommies and their babies.  Jo Parry did a great job illustrating the book.  You can read through the book and use it as a tool to learn life basics, fruit of the Spirit, animal sounds, nature, etc.
This would be a perfect book for a friend who is about to become a Mommy (Mother's Day, hint hint).
I really loved the book the first time I read it – my boys were looking on – until I got to the last page.
"How much does Mommy love you?
More than you can measure!
My heart grows bigger every day –
You're my greatest treasure!"
That last line.  So, I don't want to chunk the whole book – so here are two ways I can handle that line (since I don't agree with it)
1.  If I am reading it to them I can change the line.  My boys can't read yet so they don't know if I do change it.
2.  If your children can read, you can help them understand why that line isn't true.
Some reasons that last line bothers me:
1.  The Gospel is our greatest treasure – JESUS.
2.  If I have more than one child – do I only have one treasure – which one do I choose/
How do you interact with books for children that might not be exactly what you would say?  How do you teach your children through the books you read?
One way to enter in for this book from Tommy Nelson is to answer the question what zoo animals do your children like best?  This book has so many animals in it!
I will choose winner on Wednesday, 22nd.
Tommy Nelson provided this book to me as part of Tommy Nelson Mommies.  All opinions are my own.