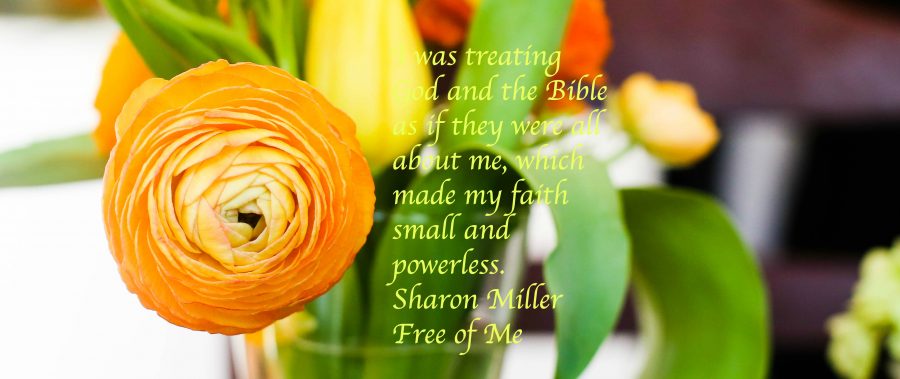 There is such a danger in the life of a believer in focusing too much on themselves. My husband reminded me of this by sharing with me the other day that if a person is depressed, if he genuinely focuses on others, then that will help with the depression.
Sharon Miller, in her book Free of Me, gets more to the heart of the Christian Life and some dangers we, especially as women, face.  In today's society, we like to think about ourselves, boast in our social media, make the Christian life completely about ourselves.
The truth is that it isn't.  It is about a bigger God then ourselves. He is the Creator and over all things – we are not in charge.  And when we learn this, life will be more about the glory of Christ.
Sharon tells her own story of self-preoccupation and then goes on to share truth about areas in our lives that we tend to focus too much on ourselves and how focusing on the truth of the Bible and God we can free ourselves of this damaging trend.
God isn't about you.
Family isn't about you.
Appearances aren't about you.
Possessions aren't about you.
Friendships aren't about you.
Your "calling" isn't about you.
Church isn't about you.
Love how Sharon shares from her experience, the Scriptures, and a well-rounded theology and ministry depth, knowing God and knowing herself, and knowing other women – that life is more fulfilling when you focus on others more than yourself.  Your dreams aren't big enough.  Sacrifice looks different when you get outside of yourself.
This is both a needed book for us as women, our families, our ministries, and churches.  And it is a convicting one for our hearts as well.  Thank you Sharon.