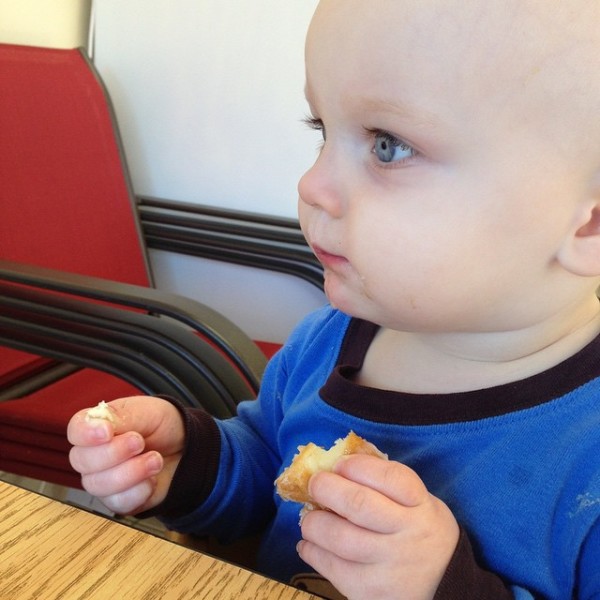 I often think that my children teach me much more than I ever teach them.  I mean I need to teach them the important things like : how to tie their shoes, how to climb a tree, how to kick a ball, and how to count to three.  But, they teach me much more important things like : snuggling, slowing down, and prayer.
Since moving to a new city back in April, our kids have been sick more than they were their whole lives of living in another state. We've had teething tablets lodged in windpipes, Roseola, other fever viruses, and teething on top of all of that.  That really isn't bad when you look at what others face, but it makes this momma a bit nervous when her boys won't sleep because their fever is 104.
This week has been that.  Our smaller one came down with a fever virus earlier this week.  Thankful that his daddy was off to take him to the doctor while I took the other to Bible study, but still.  Makes for much slower days.
Here are some important lessons I'm learning since my boys have been sick:
1.  God made their bodies.  He made them perfectly and he made them to work.  They will tell me when something is wrong – even if it is just being fussy.  He is a good Creator.
2.  Snuggling is vital to healing.  The boys (who are normally running around with cars and balls) love to snuggle when they are sick.  That's usually how we know that they aren't feeling well.
3.  My kids are more important than my schedule.  Usually I have to admit it is disappointing when one of them is sick because my schedule has to change.  I can't take them to the gym, the park, or church activities because they can't be around other kids (or shouldn't be).  That has also shown me some idols in my life when I am disappointed about something not going my way.
4.  Technology is great.  We've been able to look up some information on my phone.  I was just given an amazing thermometer which has been a lifesaver this week.  If you need a good one – run and get the Braun Touchless Thermometer.  Thanks Influenster and Braun for mine.  I saw it used in my doctor's office back over the summer.  But, it definitely is a game changer in the middle of the night and you can't see anything and your kid is struggling to stay still.  I love it.  Very accurate and the kids love it too.  The light sorta makes it seem like they are playing a game!  And I don't have to hold their head still or get a thermometer under their arm either.  The joys of wrestling boys when they have to have their temperature taken!
If you have sick littles – love on them.  Take care of them.  Learn from them.
(This post is sponsored by Braun and Influenster.  Thanks for the thermometer and all thoughts are my own.)