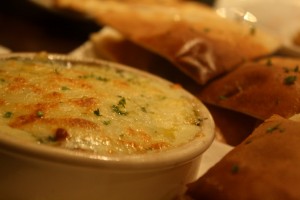 I don't know really how you say it, but I pronounce it: good eats.
On the side of Five Points in the downtown district of the Bull City, sits a gem.  Jazz, spinach gruyere dip, vegan and vegetarian choices on a full menu, wines and coffees, luscious desserts, and wifi – really – need I say more.
We walked in with only about 35 minutes for dinner.  I stated that to our waiter and he was on it.  Thankful for the service! 
I think I may have had the best spinach dip I've ever had: spinach and gruyere cheese – that's all (well, the two main ingredients) – baked in my own little ramekin so I could devour it all to myself (I did share a bite, and saved some for leftovers).  No artichokes – I think I like it that way.
The sauce that I tried from my friend's choice: chorizo quesadillas: guacamole mayo – splendid.  That would go good on just about anything – but maybe perfect on a BLT.  Yum.
The dude singing – perfect, not too loud, we could still carry on a conversation.  Must. Go. Back. for more.