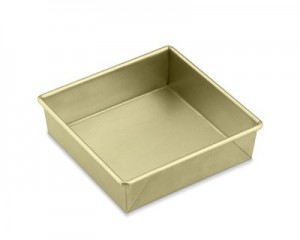 Not only do I like writing tools, I also love baking tools.  I'm not a gadget person, but I do love quality products that I know will last.
During my previous stint in NC and part of my time in the Ville, I had the luxury of working at Williams-Sonoma during the holidays to earn some money, get to know non-believers, save some money for mission trips, and stock my kitchen.  It was for the most part a great p/t job.
I got this one pan early on and it is one of my favorite in my kitchen.  Last night I baked an apple cobbler in it so I thought I would post about the tool and give you the recipe as well.
This pan is versatile and pretty – even when it is baked in and everything.  The gold finish keeps its look even when you've had it for many years like me.  I also have  bar pan in this series and love it as well – these are my two go-to pans!
Here is a quick and easy cobbler recipe from my mentor.  I've had this recipe for 15 years or more now and love it and it always is a hit:
Easy Cobbler
3/4 cup self-rising flour
1 stick butter, melted
3/4 cup milk
1 cup sugar
cinnamon
1 can pie filling
1/3 cup sugar
cinnamon
In glass 8×8 pan (or microwave safe to make cleaning dishes easier), melt stick of butter. Mix in flour, milk, and 1 cup sugar. Sprinkle with cinnamon. Spoon on pie filling. Top with mixture of cinnamon and sugar. Bake at 325 for 1 hour. Serve with ice cream! 🙂