I love sweet friends.  This girl has been a friend since high school – our cheerleading days – and we got reconnected on FB (that is the blessing of Facebook), then when I went to Denver a few years back we got to hang out and take some beautiful photos, now she is loving her garden and seeing all the beautiful things she can create from it.
What I learned this week about being Creative: I'm not a gardener.  It takes a lot of time.  There are many other interests in my life that take up that time.  But, I can and do enjoy goodies from other people's gardens.  I talked with Jayme last week and she agreed to come up with a new recipe, show us some of her garden, answer some questions – and hopefully inspire you to live a fresh, local life!  Another way I love this story – is because it started when J was growing up.  Moms/Dads – you have a huge influence on your children in many way.  Don't neglect the non-spiritual ways you influence your children!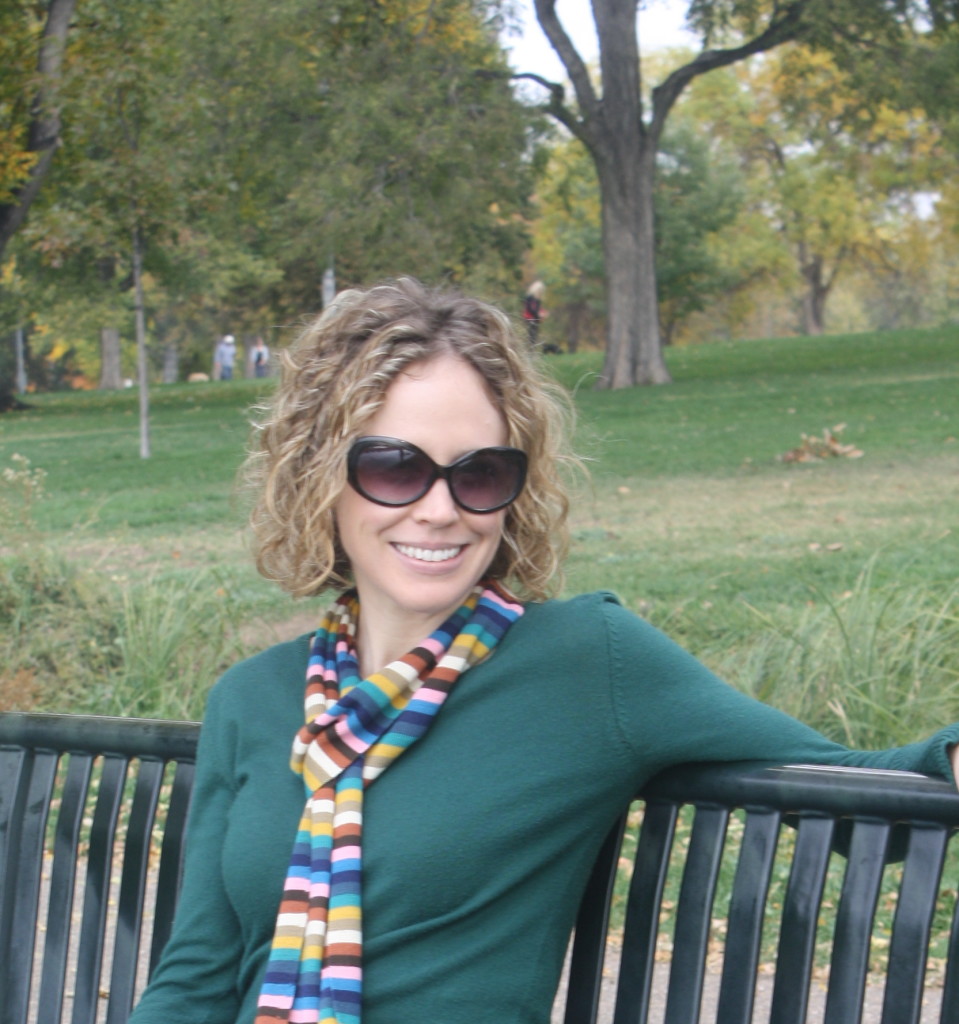 1.  How did you begin your creatives lifestyle?
Growing up, every Tuesday night, my mom would conduct "Home Together Nights."  We would select recipes to reproduce, as a family, and we would laugh, create, and bond together.  My sister and I still make recipes from those memorable evenings, and we are much more adventurous and creative in the kitchen, and in other areas, as a result.  A creative upbringing definitely made it easier to embrace a similar lifestyle as an adult, but having a garden, working within the hospitality and restaurant industries, training as a sommelier, and traveling to different parts of the world have greatly shaped the way that I view my place in the world, as well.
2.  What drives you to continue (especially in a time of convenience)?
As I answer this question, I am up late, tending some stock.  It would be so easy to simply throw away the day's carrot greens, chicken bones, and onion skins and conveniently purchase stock at the grocery for my next batch of soup.  However, I feel a strong sense of responsibility with the bounty we have been given and the talents we possess; I feel a deep pull to squeeze every gift to the very last drop, reuse it, repurpose it, and share it.  It is intensely rewarding.  Almost always, I save money by doing and making things, myself, and the more adept I become, the more beneficial and far-reaching my deeds become.  I take immense pride knowing that I am capable and knowledgeable to provide for myself and my family.  Creativity applies not only to the artistic realm, but it also applies to the practical realm.
3.  What is the thing you've learned most about yourself in this creative journey?
The mess-ups and mistakes are usually the most memorable, educational, and exciting.  I do not always operate on this precept, but I really try to learn from my perceived mishaps.  For example, I try to sketch or write about something I am creating each day.  A lot of times, those messy sketches or scribbled words become foundations for a future project.  If I were to discard them because of their imperfections, I would limit my creative potential.  I tend to be very good at limiting myself and comparing myself and my progress to others.  That aspect of my personality is challenging.  I am trying to let go, unleash what holds me back, and get my blank canvas absolutely messy, both literally and figuratively.
4.  What is your favorite recipe?
My favorite recipe to make is zucchini cake.  You can find my recipe here (link:  
http://hollyandflora.com/2012/08/26/theres-no-such-thing-as-too-much-zucchini/
).  However, this gardening season, I have had an abundance of eggplant, herbs, and tomatoes, which prompted me to create this recipe for my version of an eggplant tapenade/caponata.  Being in the midst of a kitchen remodel, I have not had access to a stove, dishwasher, proper storage options, or even a sink, which is why I have had to create new recipes, using either a grill or crockpot.
5.  What has been your greatest joy in this creatives process?
I am very much inspired by my garden.  I feel that it feeds almost every area of my life right now.  I am inspired by its color, its movement, its inconsistencies, its demands, its continual state of flux.  I find inspiration from its parallels to our daily lives.  So many of life's lessons can be likened to a garden.  The seasonal change of a garden mirrors the growth of an individual, but gardening is not just about an individual effort.  I have found deep satisfaction involving myself with the gardening community here in Denver.
Grilled Eggplant "Caponade"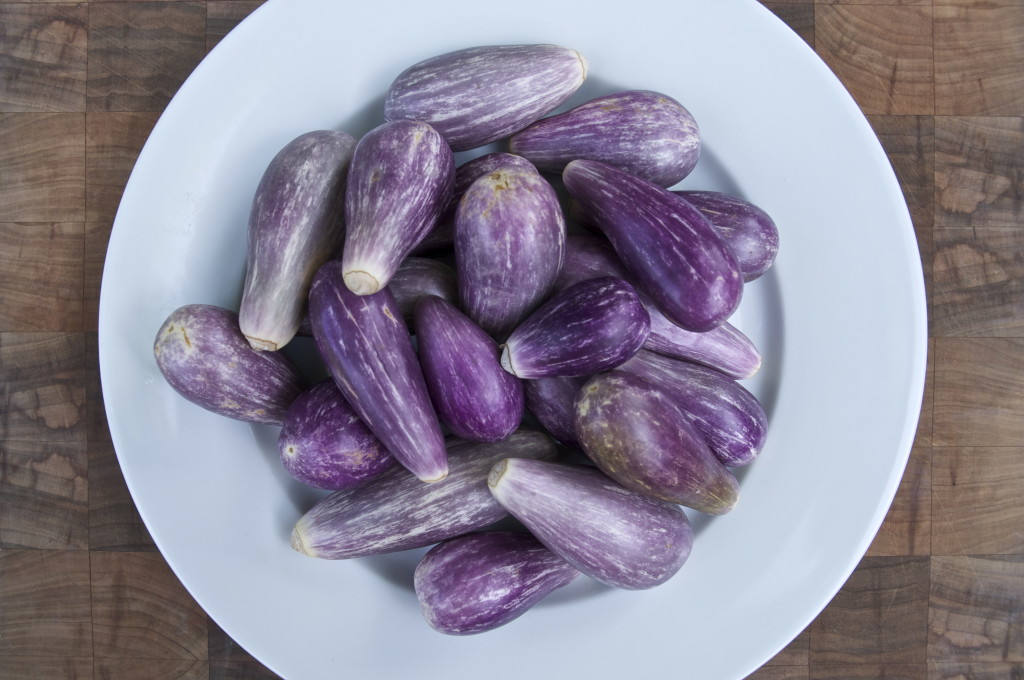 Ingredients:
20 small fairytale eggplants, halved, stems removed (or substitute 2 medium regular eggplants, quartered)
8 medium to large heirloom tomatoes, quartered
1 head of garlic
1 cup extra virgin olive oil
juice of one lemon
1 tablespoon white vinegar
1 bunch green onions, finely chopped, whites and greens together
1/2 cup olives, chopped (mostly Kalamatas, with some mixed green olives)
1/8 cup capers
1/4 cup freshly chopped parsley
1/8 cup freshly chopped basil
1 tablespoon freshly chopped thyme
salt and pepper, to taste
dried chili flakes, to taste
Steps:
1. In a deep saucepan, simmer the tomatoes in 1/2 cup olive oil, over low to medium heat, for about 30 to 40 minutes, or until most of the liquid is gone, and it starts to thicken.  The longer you can draw this process out, the better and more concentrated the taste will be.
2. In another pan, add the peeled and separated garlic cloves to 1/4 cup olive oil.  Simmer over low heat for about 20-25 minutes, or until lightly browned and caramelized.  Remove from heat, set aside to cool, and then chop coarsely.  Do not discard the oil!
3. Pre-heat the grill on high heat, and then turn down to low heat.  Brush the eggplant slices with olive oil and lightly salt.  Grill the fairytale eggplants for two minutes on each side.  If you are using regular eggplants, grill four to five minutes on each side.  Remove from the grill, set aside to cool, and then dice into 1/4 inch pieces.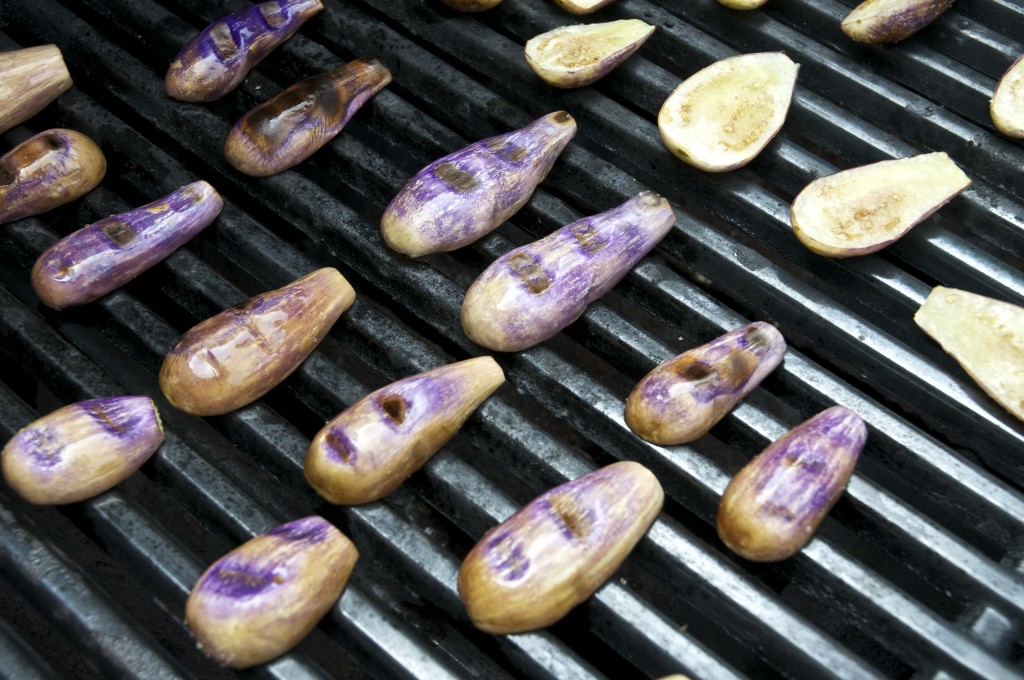 4. Once each component has cooled, mix the tomatoes, garlic, and eggplant in a large bowl.  Add the last quarter cup of olive oil, as well as the oil that you reserved from simmering the garlic.
5. Add the lemon juice, vinegar, onions, olives, capers, and herbs to the mixture.  Stir to integrate.
6. Season with salt, pepper, and chili flakes to taste (I used about 1 tablespoon of salt, 1 teaspoon of pepper, and 1/2 teaspoon of chili flakes).
This recipe tastes great the first day, but even better the next, so feel free to prepare in advance.  This recipe yields about four cups and keeps, refrigerated, for a week.  Serve with crostini or grilled bread.  What are some other uses for this recipe?  Serve alongside hummus or crumble in feta or serve on top of baked or grilled salmon and pork tenderloin.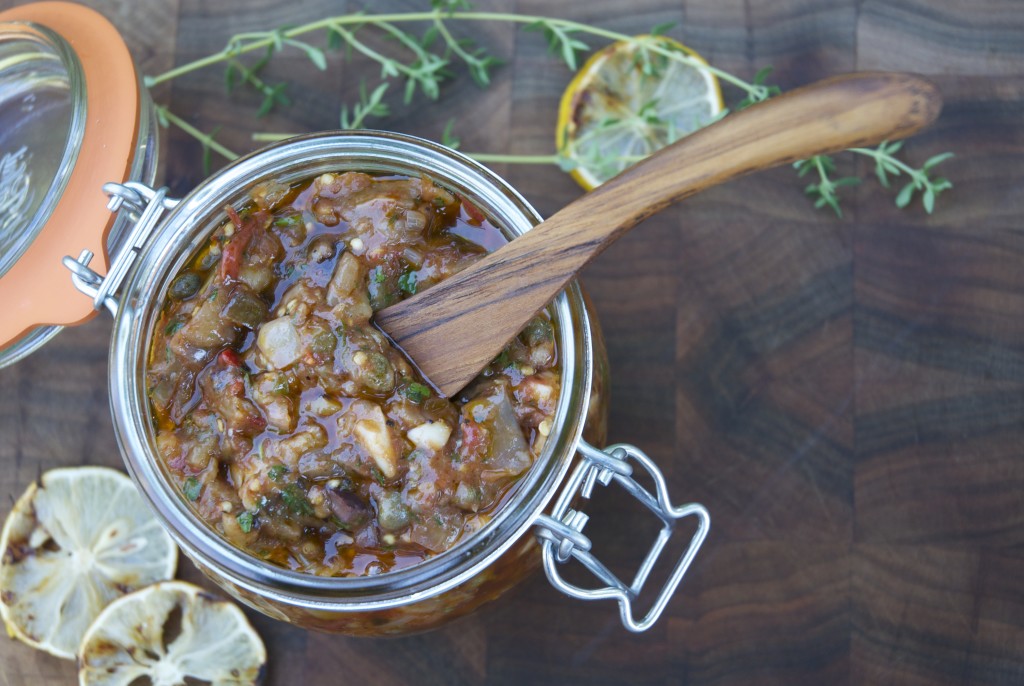 Be on the lookout for spice rubs, spice blends, and notecards all inspired by Jayme's garden!  And Be Creative!