hey folks.
It's Friday again!  I hope y'all have had a great week – living healthy!
Here are some aspects of my week:
1.  I love my new shampoo!  It is great and makes my hair look shiny and strong.  It is cheap for a big bottle and the best shampoo for my normal long hair!
2.  I haven't gone on a walk all week.  We've had company, my baby has been fussy, I've been tired. Need to get better at not making excuses.  And I'll be ready to exercise in other ways in about 3 weeks when I get clearance from the doctor.  How fun.  I especially can't wait to get some Yoga Downloads in and some kettlebell workouts for weight training and in December starting Jillian's 30 Day Shred again!
3. I've gotten a bit of my appetite back and have enjoyed cooking again, though I am so thankful for people bringing us food since Baby Bach was born.  This week we received a roasted chicken.  My favorite roasted chicken recipe is from Sara Foster.  You can do so many healthy meals with a simple roasted chicken recipe.  Definitely should be on your weekly menu!
4.  Some folks ask about my favorite fashion or style websites.  One of my new fave sites is by Molly Buckley – a new mom herself.  I love her attitude toward clothes and fashion and also how she makes outfits her own.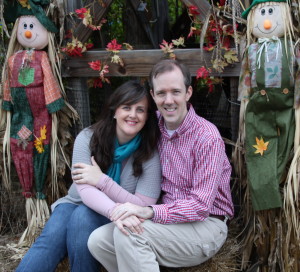 5.  Since I've not exercised as much this week and my appetite has come back somewhat, my weight loss was a little less this week: about 2lbs.  Which is what it should be – that is a healthy weight loss.  And it is right on track with my goal for my 37th birthday!
6.  The above photo – I love scarves!  My husband picked this one out for last year's Christmas cantata at our church.  Glad I get more than one wear out of it!