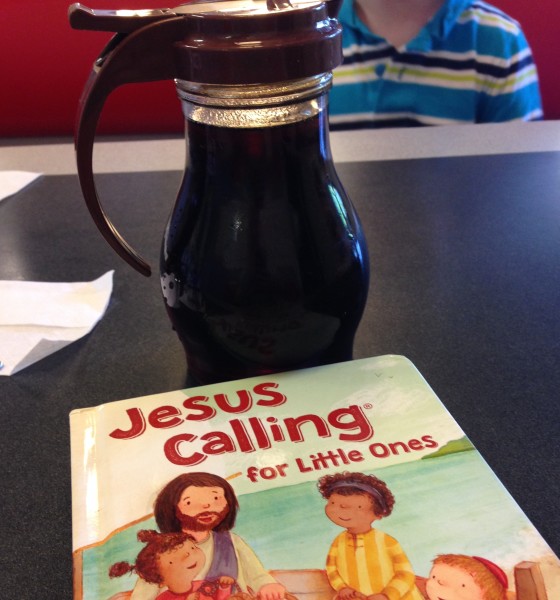 Last night I had the privilege of hearing a seasoned missionary, husband, father, son, and leader speak about some of the most life-changing times in his life.  He mentioned that there was a period of time when he really questioned his ability to hear God – siting the Scripture "your sheep will know your voice" out of the book of John.  He went on to explain several times over a period of years that he took silent prayer retreats.  Each time never feeling like there was enough time – even two weeks worth.  At the end of that dark time, he came away with this thought – God is always speaking – but never more clearly through His Word (the Bible) – Psalm 19.
Over the past five years there has been one staple book always at the top of Christian books for women: Jesus Calling.  It has gotten rave reviews and some alarming reviews.  I do not agree with everything that Sarah Young says about her book – the presence of Jesus talking to her and then she passes that on to her readers.  But, I had the opportunity to review Jesus Calling for Little Ones thanks to Tommy Nelson Mommies.  I was hesitant, but wanted to check it out.  When we got it I love the board style book perfectly unrippable by little hands.  I loved the illustrations and the size of the book.  I took it to our Waffle House breakfast on Sunday morning before we head in to church.
She simply had a verse and then paraphrased it in her own way on the opposite page.  I would equate this book to a Message Bible for little kids.  Some of the posts on this book says that it is as if "Jesus is speaking right to little children."  I don't put this book anywhere near the authority level as that.  Except for the Scripture in it.  That is the infallible true word of God.  The paraphase, explanation, etc is just that – someone else's thoughts on the verse.  It is prone to human error.  I wrote curriculum in my last ministry job before getting married.  The only part of the curriculum that was free from error was the Scripture.  I am not perfect – nor are my thought perfect.
So, if you want to hear the direct infallible perfect instructive voice of God – read the Bible.  If you want a board book for little ones that has Scripture, pretty pictures, and some nice thoughts for kids that they will understand, leave a comment on the blog or on social media.  Don't confuse the two.  Only Scripture, not anything the book author says) is authoritative in your life, for your soul, and for your children's soul.