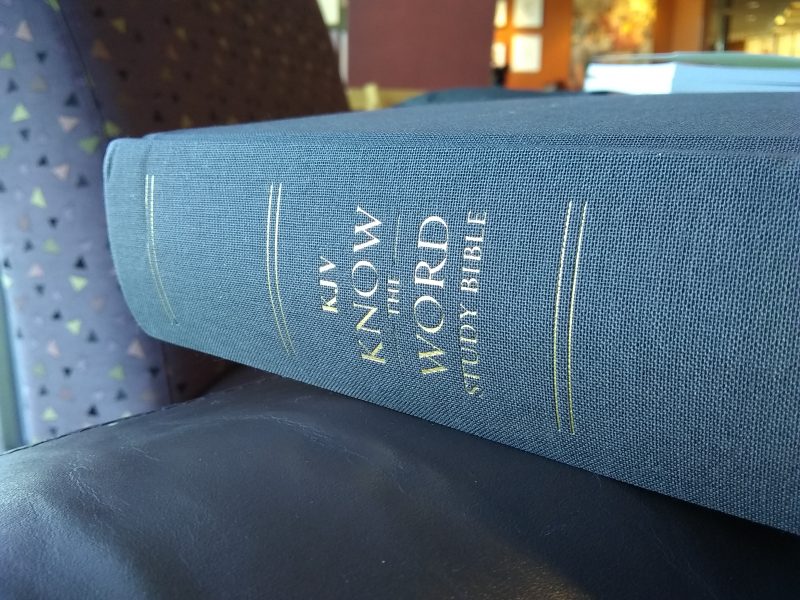 If you are anything like me, sometimes you get in a rut with your time in the Word.  Maybe not, but I know I do.  If I always study the Word in the same way, I get stale (not the Word).
So, I thought I would highlight some new(er) Bible study helps. Maybe these will be new to you, maybe you will have tried them and love them.
KJV Know the Word Study Bible.  This is a new Bible from Thomas Nelson.  I grew u with KJV at my Christian school.  The verses that I have memorized over the years are a hybrid of KJV, ESV, NIV, NASB.  One thing I love about technology these days is to read the Bible in so many different translations – and the KJV is a good one.  This new Bible has topical study notes on subjects: the Trinity, Love, Covenant, Purpose, Church, etc.  These are helpful if you are doing a topical study in your Bible study.  There are helpful footnotes on the bottom margin so you can access it easily as you are reading.  This Bible has book introductions which are helpful if you are doing a read through the Bible, you are getting a brief synopsis and knowledge about the book before you read it. So, if you want a very neutral (not personality-driven study Bible) this new one is a good, basic one.
The Daily Grace Co.  Kristin produces Bible studies that I think are ideal for the beginner.
She Reads Truth – this is an easy app that you can have on your phone right when you wake up, get in the Word right away, or you can purchase their Bible studies.  Solid material.
What are some Bible study tools that you use?
Thanks Litfuse and Thomas Nelson for the KJV Bible.  All thoughts are my own.