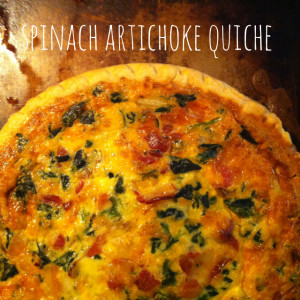 I used to think quiches were hard and way too many calories for what you got (ie how they tasted).  That's until I started making my own.  This is one of the most delicious things I've made in a while.  We both loved it (the older little isn't a fan of eggs).
Being a mom of two littles, I don't readily have time to roll out pie crust – I do have time but I choose to use it doing other things – especially when the pie shells from Pillsbury are so good and easy and inexpensive (Thank you!).  When you are a mom, you have to choose where you spend your time.  I spend mine in being active with the two, cooking simple meals, keeping the house clean, and being creative.  Making pie dough from scratch doesn't make the top-whatever list.  How do you manage your time as a mom?  What do you learn to say no to?  Has that been hard to change your priorities since kids came along?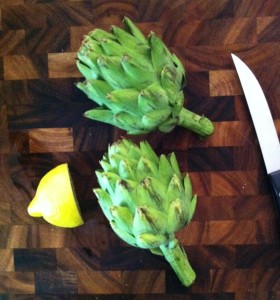 I digress: but hopefully encourage!

Deep Dish Spinach Artichoke Quiche
Prep time:
Cook time:
Total time:
Creamy, filling, delicious quiche perfect for breakfast, brunch or brinner.
Ingredients
1 deep dish pie crust
¾ pound bacon, cooked, drained, chopped
1 cup cooked frozen spinach, drained, chopped
1 onion, chopped, cooked
3 artichoke hearts, chopped
salt and pepper to taste
7 eggs
2 cups grated sharp cheddar cheese
1½ cup heavy whipping cream
Instructions
Bake your pie crust for 10 minutes at 350.
Mix all ingredients together.
Pour into pre-baked pie crust
Some will spill over - you can make an additional ramekin if you like.
Place on cooking sheet to keep your oven clean.
Bake for 55-60 minutes for 1 hour until completely set.
Let cool.
Eat.