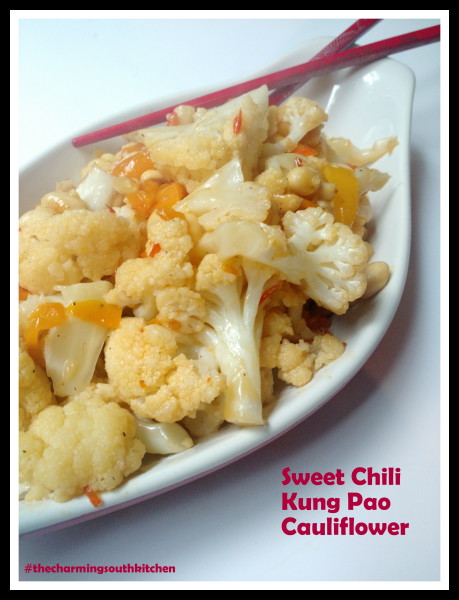 When moving to a new place you always want to scout out a couple of things: parks, hiking trails, great local Mexican restaurants, and definitely a favorite sushi/chinese take out place.  One of my favorite things to do is to sit on the couch eating take out Chinese.  We haven't done it in a while because we've not found a place that's not really expensive here in our area.
There was a great local dive in Chapel Hill called Charlie's.  It had the best corn egg drop soup and was just down the strip mall from where I worked for a while.  I loved everything on their menu.  Would love to grab lunch with a sweet friend there or take some home for dinner.  This is especially worth it for those cold, rainy winter nights.
It might not be winter yet, but its been constantly raining and cloudy with much of the same in the coming forecast – and I've been wanting to try something healthy with cauliflower.  Speaking of cauliflower – I hope my Mister will eat this.  There are only a few things that my mister doesn't like – and I've changed his mind about one of them already since we got married.  So, I think the flavor of this dish will win him over to the cauliflower side!

Sweet Chili Kung Pao Cauliflower
Prep time:
Cook time:
Total time:
A healthy satisfying twist on a Chinese favorite
Ingredients
2 T unsalted butter
1 head cauliflower, chopped
salt and pepper to taste
⅓ cup sweet chili sauce (bottled) - divide into three
½ cup chopped sweet peppers (red, orange, yellow)
1 tsp chopped garlic (1-2 cloves)
¼ cup salted peanuts
2 T water
Instructions
Heat butter in a non-stick pan or wok.
Add cauliflower and season with salt and pepper.
Saute with the water for about 3-5 minutes.
Add some of the chili sauce.
Add peppers and garlic. Saute about 2-3 minutes
Add peanuts and more chili sauce. Stir until all combined
Remove from heat and stir in the remaining chili sauce.
You can add some green onions/chives or more peanuts on top for presentation.
Serve with rice for a complete meal.
Trader Joes has a great Sweet Chili sauce that we use for some chinese chicken dishes.  It was perfect in this dish as well.  I also had chopped up some yellow, orange, and red peppers and had them in the freezer.  This dish took all of 10 minutes.  I love quick dishes – in between refilling preschooler sippy cups and singing the Dino Train song – quick is good for this busy momma!