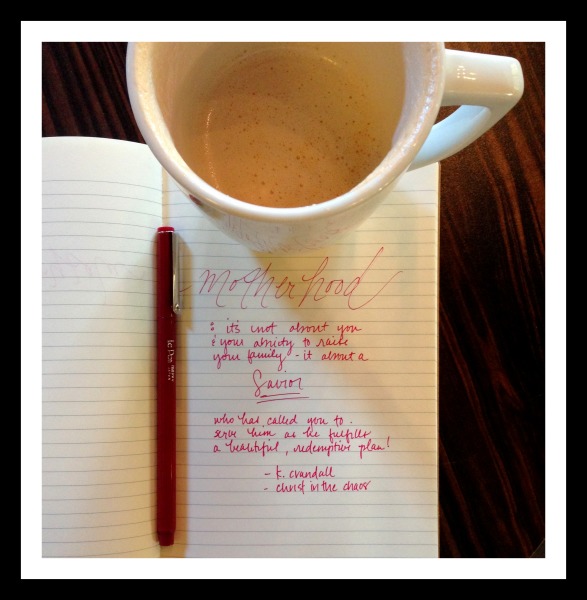 Sometimes it may take me a while to get to a book, but God knows why he had me pick it up at that moment.  I've had this book for a while, and just really picked it up in earnest this weekend. As you can see by this review – I'm done with it and it has many underlines and !!! sections!
Kimm Crandall is a mommy of four – and a funny one at that – and one who knows her weaknesses and is steeped in the Gospel.  And even though she has written a helpful and gracious book, she would probably tell you herself that she needs to practice and rehearse the gospel every day (even after she wrote the chapter on rehearsing the gospel).
I liked this book because she shared stories I could relate to – even though her kids are definitely older than mine.  She pointed me not to my mistakes and where I fail every day as a Mom, but instead she pointed me to Jesus – who is perfect in every way and intercedes for me as my Great High Priest.
I liked it because it was short and practical – two things I need as a Mom to two active toddler boys.
I liked it because she encouraged women to be honest with other women – and to use wisdom in sharing – but not to hold on to this idea of perfection that we seem to do so well in many of our churches.
I would recommend this book to any mom but especially ones who are :
1.  Like me, in the throws of teaching two boys what it means for mommy and daddy to have authority and how they won't get everything they want just because they throw a temper tantrum.
2.  Like me, who loves their to do lists and hates it when everything isn't marked off by the end of the day.
3.  Like me, who knows the Gospel but still needs help in accepting it every day and also passing along that acceptance to their husbands and children.  Oh, ladies – how I struggle with that.  Teaching my boys to obey and listen and accept authority – and doing it with the love of Christ in my actions, words, and tone of voice.
Here are some of my favorites from the book:
"God's faithfulness is not measured by tangible blessings.  It's measured by his character and his promises to us." (22)
"God's grace leaves us with nothing of ourselves but all of Jesus." (32)
"Grace is a mystery so disturbing I can't bring myself to look away." (44)
"When you know you are being pursued by a merciful admirer, the lure of sins' crude pleasure loses it's sparkle." (51)
"Take off the strong mother mask and embrace your weakness.  Stop hiding the very inadequacy God wants to use to display the Gospel." (61)
"Everything in Scripture points, not to our obligations, but to our Redeemer," (67)
When you live in light of the Gospel – you are set free from your incessant need for approval." (93)
Live in light of these truths – grounded in the Word and the Gospel.
(Thanks Kimm for providing me with a copy of this to read.  All comments and thoughts are my own.)