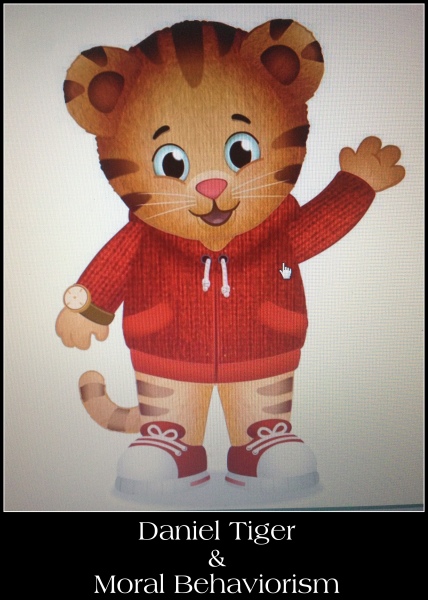 The only show that my toddlers watch 5-7 days out of the week is Daniel Tiger.  We only have Netflix so I can just put one on in the morning as I'm cleaning up from breakfast before we go out to do any errands or go to Bible study.  Both of my little boys love it.
I do believe my older son's first sentence was (in his own language) "Daniel Tiger rides a school bus".  School bus is his term for anything that moves that's big.  And my younger son does The Twist when the theme music begins.
I love that the show is based on Mr. Rogers' Neighborhood, which I loved as a child.  Teaches good things to kids and helps them learn social behavior that is acceptable.  My mister even was telling me the other night that he was able to put a Daniel Tiger song into practice during a conversation with some co-workers.
And I write this blog  post from a stand point of a Mom who is in the throws of trying to get my two year old to behave.  I'm trying to teach him about authority and what is right and wrong.  When not to run away, why shoving his brother is wrong, how to share toys, why we don't spit out food onto the table, why we don't pitch fits when we leave time with Daddy at his store, why we don't scream in the car long enough to make his brother cry.
Daniel Tiger is great at teaching what to do and how to be nice while doing it – playing nicely with others.  Obeying your parents, giving hugs, etc.  But, if that is all we teach our children as Christian parents, than we are missing the (gospel) boat entirely.
When my son disobeys, like he is right now because I've asked him to be quiet and play in his room or take a nap and he is singing and talking at the top of his lungs, I have trouble because I go to him and I say "I love you, E, BUT I really want you to obey Mommy."  When I should be saying "I love you E AND I really want you to obey Mommy.  Here are some truths I'm learning about this way of parenting:
1.  My love for my sons should not be conditional upon their obedience.  I remember asking my Mom one time decades ago what she would do if I or my brother killed someone.  She said I'd still love you, pray for you, and I'd turn you in.  Good job, Mom!  They should not have to work for my love or my snuggles.  The Bible is very clear on this in Romans 5.10
2.  Our children should learn how to have good behavior.  Not by bribing, not by rewarding, not be yelling – but just because that is what is expected of them as one of our children. I don't want to raise two little Pharisees, I want to raise little boys who see their need for a Savior.  My Mister and I have been talking about this, especially now that our older one has gotten to a point where he completely understands what we are saying when we are trying to get him to obey.  A sweet friend who is years ahead of me in parenting told me that these early years are for your children to learn that the parents are the authority.  If they don't learn that, they will have a harder time learning God's authority.  And that is where we definitely want to point them.  One key Scripture is Ephesians 6:1-4
3.  The main point of the Gospel is not so we will be better Christians.  The Gospel is not there to tell us how to be good.  It is actually the opposite.  The Gospel tells us that we can't be good and we can't obey. The sin nature living in us makes us want to do our own things.  Only turning our lives over to Jesus and relying on the Holy Spirit to shape us and live through us will work.  Believing through faith is salvation.  That faith is given to us.  Out of a heart that has been changed will come right obedience.  See Romans 6-8 and Ephesians 2.
4.  We have to discipline, love and teach the Bible to our children through the eyes of the Gospel.  We can't teach them Bible stories that will lead them to share better, be kind more, or obey.  We need to teach discipline, love, and teach them so they see Jesus in EVERYTHING.  We must be the ones who share the Gospel with our children.
After all, that is our biggest job as Christian parents.  Show the Gospel to our children.  And pray the Holy Spirit will turn their little hearts.