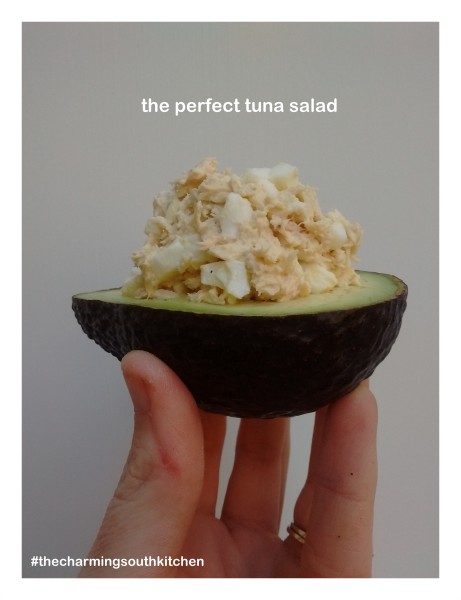 One of the pieces of marital advice I give every newly engaged girl I know is simply this: Love God, Love your mister, and study both.
When you love God first, loving others becomes easier (not easy, just easier).
Love your mister – I'm assuming if you are going to marry him you already do.
Study both. The more you get to know God's character and dwelling on the Gospel, the more you will actively live our the gospel.  Which every marriage needs.  And then when you study your mister – not memorizing every book and trying to make your mister into that person in the marriage book – you are well on your way to success in marriage.
Now, how does that marriage advice apply to tuna salad?
Well, my mister loves tuna melts and getting his tuna salad perfect has taken me almost 5 years.  So, when he tasted this the other day – I got a two thumbs up and don't change a thing look – and he ate it all!
This tuna salad is also vertatile.  You can have a low carb lunch by putting it into a avocado half.  This is a delicious combination.  You can toast some bread, melt some cheese on top, and have a traditional tuna melt.  You can put it atop some greens for a salad.  You can eat it with whole grain crackers for a lighter lunch.  Or just eat it with a spoon.

The Perfect Tuna Salad
Prep time:
Cook time:
Total time:
A perfect tuna salad is great for parties, light lunches, or salads.
Ingredients
2 cans whole chunk white albacore tuna in water (the quality of tuna is so important)
¼ cup Duke's mayo and 1 T
1 tsp dijon mustard
3 hardboiled eggs (the cooking time for the recipe is all in the boiling of the eggs)
½ tsp each of kosher salt and black pepper
Instructions
Mix all together.
Eat.