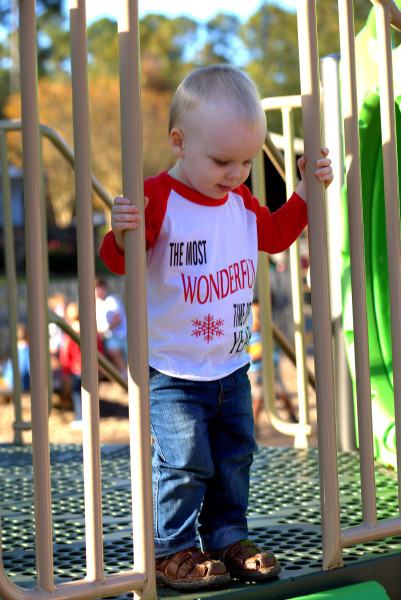 Well, most of the turkey in your fridges is probably eaten – we have some about to get into a casserole for lunch tomorrow. You may have some pie left – but I guarantee if it is good pie than it is already gone.  We have one piece left, but I'm sure my mister will eat that when he gets home in a few.
But, now we move on to Christmas. Some of you have already been playing carols in your car.  My mister starts listening to Christmas music in the summer because he always puts together the Christmas cantata at our church so he needs to know the music before Thanksgiving.  There are only a few Christmas cds that I can listen to all year, but mostly I just listen to them in December.
This year I've been receiving texts from friends asking what we are going to do with our boys and Santa.  I give them what we are doing – and then couch it all in – Bring Christmas back to Jesus where it belongs.  No matter what you do with Santa.
Tommy Nelson has a new book out for Christmas and your preschoolers this year.  I was reading through it with mine tonight and it really has some good illustrations to help you tell the Christmas story – couched in many of the things we know and experience about Christmas. It helps us to continue thanksgiving into the holiday season of Christmas.  I love how it talks about snow and forgiveness.  And even our warm beds and the manger.  This book leaves a little bit to be desired in its depth of Christmas.  It is a little generic, maybe secularized or weak so as not to offend, which can lead to a false theology of Christmas.  Its missing a specific reference to why Jesus had to come to earth. The parent would have to further explain more to their children about what Christmas is – but it is a good start.
You too can read this book to your child. All you have to do to win it is tell me what is something you are looking forward to doing with your kids this Christmas.  We are going to ride the Pink Pig at a mall in ATL – a long-standing tradition for many Atlantans.  And we are going to start making a Happy Birthday Jesus Cake.