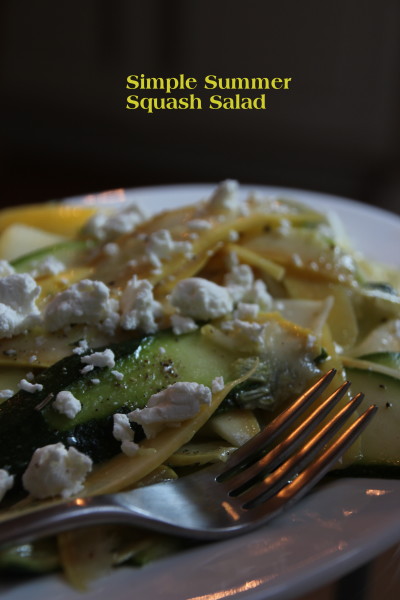 Summer food should be pretty.  The sun is shining.  The gardens are bursting with fragrant herbs and brightly hued fruits the way God imagined and created them.
While I didn't grow the items found in this summer salad, I did buy them at the Whole Foods in Buckhead (a delightful shopping, eating, and living area of Atlanta).  This Whole Foods takes the cake on any one I've been in.  The produce alone would be reason to keep coming back to it again and again.  I remember the first time I took our older son in there.  He exclaimed "watermelon" while looking at the sample containter of beautiful red, completely juicy, delicious watermelon.  (And that was the first time he had said it!)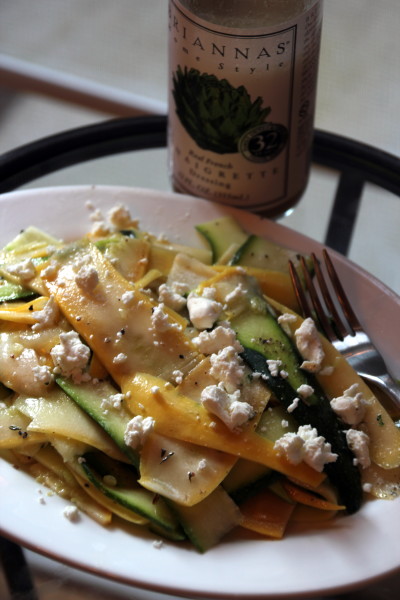 And another favorite thing I love about this salad is the dressing.  I do love to make my own, but when you've found a simple summer vinaigrette such as this one: Brianna's Real French – why waste the time in making my own?  It is slightly tangy and fragrant and rests lightly on any food you put it on (this salad and our pink grapefruit salad are our two favorites).  And if you want to know where to get the delicious Yard Blend that I use in this side dish, contact my friend Jayme over at Holly and Flora.
So, without further ado – here is a perfectly simple summer side dish that would be a great accompaniement to your next light summer affair.  Get some crusty bread, cheese, wine, berries, and this – night well made.
This recipe was inspired by Laura's.

Simple Summer Squash Salad
Author:
The Charming South Kitchen
Simple summer squash in a light vinaigrette with salty, smooth goat cheese
Ingredients
2 yellow summer squash, sliced in ribbons
1 zucchini, sliced in ribbons
2-3 T Brianna's Real French Vinaigrette
pinch of salt and pepper
½ tsp of Holly & Flora's Yard Blend
2 T crumbled goat cheese
Instructions
To slice ribbons in your vegetables, I used the side of my box grater with the long grating option.
Toss your sliced vegetables in everything but the goat cheese. Let marinate for about 20 minutes
Crumble the goat cheese on top before serving.