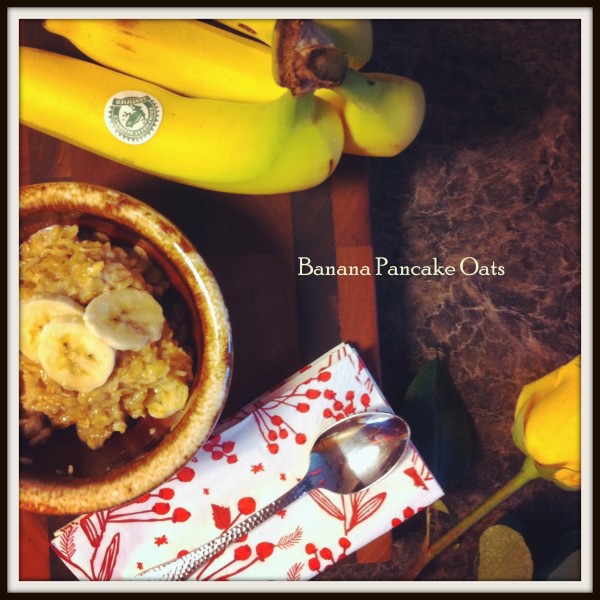 This breakfast reminds of two of my favorite morning meals.  Pancakes at Guglhupf in Durham, NC.  And oats in the Bay Area of California with my Dad.  Let me tell you about them.
There is a little bakery/café in the central part of Durham that I still crave their pancakes.  Ask my husband: they serve the best most amazing, perfect textured pancakes EVER.  I wish I could get their recipe.  The pancake plate comes with apples, butter, and syrup.  At most restaurants, I have to ask my server for my syrup because the pancakes just need help.  I rarely have ever used all the syrup at Guglhupf.  They don't need any more.  I can devour the plate and be completely satisfied by the rich goodness that I inhale on my fork.  Then I want to go home and recreate them – but have yet been able to.  My husband is sitting here beside me making up an ode de Guglhupf.  Funny man I live life with.
The Bay Area of California.  With so much going on – its a place I've only been to once but would love to explore more of – and most directly north of there in the wine country of Napa.  But as I look at pictures of the Bridge and the Bay, it pulls me and calls me to travel there to explore all of its goodness.  One such goodness is the breakfast I had. I don't remember where we went, but the oats were amazing.  This was really before I started eating oats on a regular basis.  I grew up a Life Cereal girl.  A whole tray of goodies came out with a big steaming bowl of oats.  Bananas, raisins, syrup, brown sugar, all to create your own bowl of goodness.  I thought to myself oatmeal could be fun!
Well, thinking about these two delicious breakfasts helped me create this mornings bowl of oats.  Oats are a healthy and inexpensive way to feed your whole family in the morning.  This recipe serve 2.5 (Eli doesn't eat quite a whole bowl yet.)

Banana Pancake Oats
Prep time:
Cook time:
Total time:
Banans, brown sugar, oats, and syrup - yummy concoction for breakfast
Ingredients
1⅓ cup whole oats
1⅓ whole milk
¼ cup water
pinch of kosher salt
2 T brown sugar
1 tsp cinnamon sugar
½ banana, pureed
1 banana
Maple Syrup
Chopped pecans, optional
Instructions
In a medium sauce pan, bring the oats, milk, and water to a boil and let cook until done.
Halfway through cooking, add in the salt, cinnamon sugar, brown sugar, and pureed banana.
When done, spoon into bowls, top with sliced bananas and maple syrup. If desired, add chopped nuts.