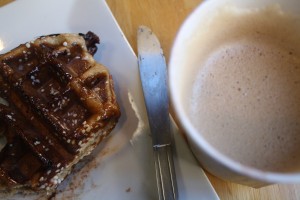 A hot cup of morning coffee?  20 minutes alone when he comes home from work in the evenings?  His favorite dessert for his birthday?  A night out with the boys?  A Saturday alone to watch all the college football games and finish it up with all the recaps on SportsCenter? 
Do you know what makes your husband happy?  Happiest?
E and I have a lot of good conversations on the couch.  I love talking with him, very softly most of time (will be harder to do that when we get older if he starts to lose his hearing), just living life with him.  In a recent conversation, he said this to me: "Don't make my happiness and idol.  Search for your own joy in your pursuit of God."
That was a receptive rebuke. 
Look here for all the times joy is used in the Psalms alone.  What a rebuke by the words of the Spirit.  So many times wives (or girlfriends) find their joy or happiness in their significant other.  This can't be the case.  If so, that person or relationship has become an idol to us.  Yes, we are supposed to do what we can do make our husbands happy, live with him in harmony, pursue peace and Christ together.  But, in no way should we feel the blame for when we are doing our part and other situations in life are difficult – for a season.  We can't be mainly responsible for our husband's happiness.  He has to find his ultimate happiness in God and God alone – just like we do.
Why do you think that you can be your husband's happiness?  I'm not saying he should be miserable when he is around you – and I hope the wedded bliss of the honeymoon lasts forever in your marriage (and mine)…but if we aren't happy in Christ – with or without our husbands – then we have made something else God in our life and are leaving out the most important LIFEsource.
Photo: This was taken on our honeymoon in Philadelphia at a place called Bonte' Waffles.  A breakfast that made both E and me happy!