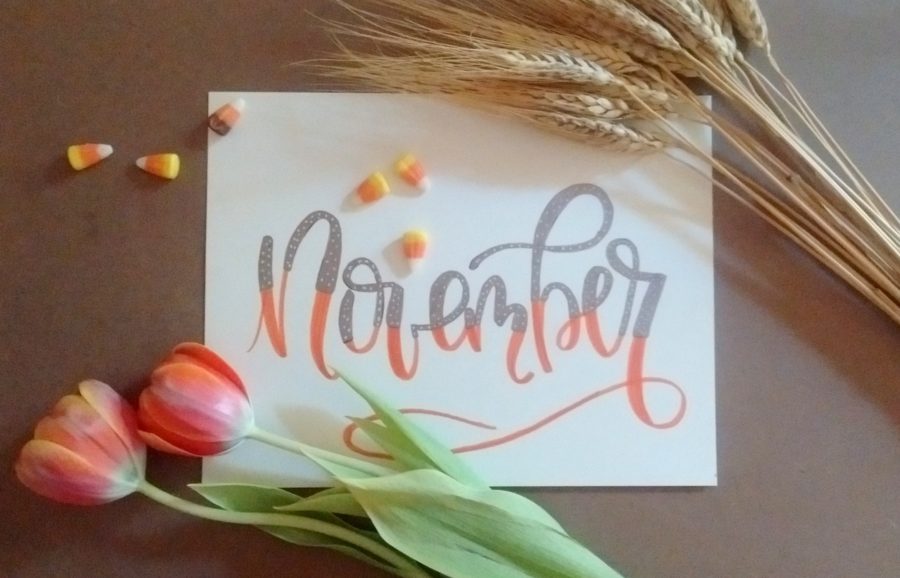 I don't know where October went – but here we are in November.  Only 2 months left in 2016.  The year seems to fly by, and once again we are about to pick out our new calendars.  I personally like this one and this one.
Thought if I wrote down some goals at the beginning of the month, I could follow through with them better – you know like writing down a to-do list:
 Cook more at home.  I want to cook 4-5 meals at home each week.  I do love to eat out, but it is more expensive.  Honestly some of it is laziness because parenting is hard.  But, I do love to cook too and it is bringing out the creativity in my boys to help me in the kitchen. (See this book for more information on this concept)
Book reviews.  I've got a giveaway coming for all you moms of littles out there, and some books that are really teaching my heart right now, like this one and this one.
Gearing up for Christmas rush with handlettering projects.  Go take a look at my instagram page and if I can do a custom order for you, let me know.
Finish up the Longmire series (at least for now).  We are also starting back with West Wing.  We took a hiatus because we were so tired and didn't want a long, involved, good, but depth show each night.  Instead, we've been watching Leverage together.  And anticipating the Gilmore Girls show late November.
See my desk and dining room table again.  I don't know how this will work (see #3), but I know it will bless my husband and I like doing that.  He loves clean surfaces and these two surfaces are in our main living area so we see them all the time.  I wish my desk area could look like this – or even this.
Going to the Pursuit ATL Friendsgiving.  It is a fun time sitting with other creatives and talking about everything!  Also, going to Passion's Grove – if I can find parking this time!  This is always a great night of worship.  If you are in need of some guidance, listen to this sermon.
How are you gearing up for November and what goals do you have?