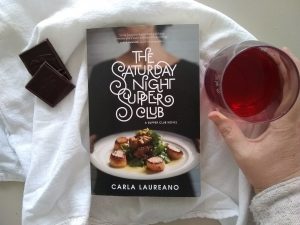 Food.  Books.  Two of my loves of my life.  And this book is a great combination of both worlds.
Tyndale House sent me this book as part of their blog review program.  And the book by Carla Laureano is one of my favorite reads this year!
It is a fictional story of a chef, an essayist, and dinner parties.  Food and time together is a perfect setting for love to blossom.  I mean, my own relationship with my husband started over a 4 hour dinner.
I loved Carla's characters, dialogue, setting in Colorado.  I had just read a book with a similar story line, but the romance without the sex in this Christian fiction was much better.
If you like food, dinner parties, and romance fiction, this is definitely the book for you.
This would be a perfect book to read with a book club.  Have dinner.  Drink some wine or just coffee…and talk about the book.  There are even discussion questions in the back of the book.  And her next one is due our next spring!  Can't wait!