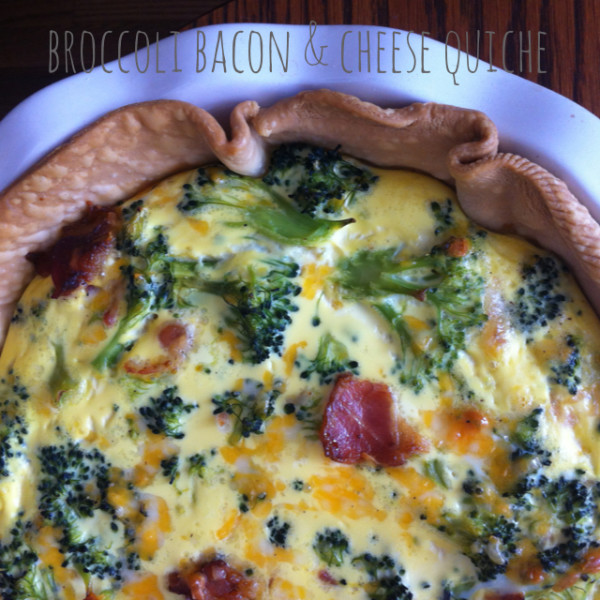 Love having women over to live life with me, eat girly food, and be creative. This was the scene at our dining room table the weekend of Thanksgiving.  I had some sweet girlfriends over to celebrate creativity and enjoy getting to know one another.
With any girls' brunch, I think some egg dish is customary, right?  Well, as I am cooking through Jenna's blog, I came across this one.  My learned lesson from this: read the instructions.  I figured eggs cook fast, so it can only take about 30 minutes, right?  Wrong.  The quiche didn't get done for an hour and I would have known that had I read the directions.  But, during the waiting time, we stood around in the kitchen and talked.  So, it was worth the wait – when we all dug in and enjoyed the savory goodness for breakfast.

Broccoli, Cheddar & Bacon Quiche
Prep time:
Cook time:
Total time:
Delicious easy egg quiche perfect for a weekend brunch.
Ingredients
1 Pillsbury pie crust
6 oz Monterey Jack cheese, shredded
1 large head broccoli, use the florets
3 eggs, I used Great Day Farm eggs
1 cup whole milk
4 slices bacon, cooked, drained, and chopped
salt
pepper
garlic
Instructions
Preheat oven to 350.
Press your pie crust into a pie pan. Set aside.
Cook broccoli just until done - about 4 minutes.
In a pourable dish, mix your milk, cheese, eggs, bacon, and seasonings.
Place cooked, cooled and drained broccoli in the bottom of your pie.
Pour your egg liquid over the top.
Bake until set, about an hour.
Take a pretty picture.
Eat.
Note: You can really use any cheese you want to in this, I suppose.  I used Monterey Jack.  Sharp Cheddar would also be delicious!