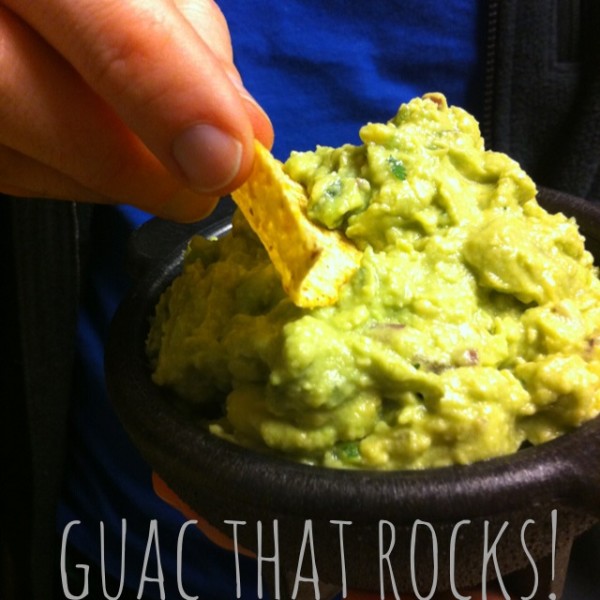 I'm watching The Chew right now and they are doing a Tex-Mex party show with a vignette revolving the avocado. I have not always been an avocado fan. There was a time when I wouldn't eat it. I don't know when that changed, but believe me, my husband knows there are three favorite foods in my brain:
Delicious baked gooey macaroni and cheese (blue box will do in a pinch, but I really want the gooey stuff).
A delicious steak. This means the freshest piece of meat, cooked medium, and preferably cooked either by my husband (in house) or my brother (on the grill).
And guacamole. Not fancy quac – 5 in gredient guac. That's all you need to make the perfect guacamole.
Bring in one of the best food blogs around – Jenna at EatLiveRun and the Super Bowl. Husband and I chose to watch the game at home this year and then I forgot about the time change and it was a boring game. The best part of the whole evening was the guacamole.
What you need:
perfectly ripe avocados. These are hard to find. Wal-Mart always lets me down even though they are cheap. Mostly I find them at Kroger or Whole Foods. If you are going to use them ASAP – then you want them with a slight give to them. Just pushable. If you are going to use them tomorrow = then buy them firm. You do not want them mushy. They will be brown. Listen…do NOT buy them MUSHY!
Kosher or Sea Salt. Don't use the table salt. How long has your table salt been on your table. Salt loses its flavor. Use kosher salt or sea salt. It brings out the amazing buttery goodness of the avocado.
Limes. Don't buy the lime juice in a bottle. Just go buy little limes that have juice in them. You can have liven your finished product up with some of the lime zest. You don't get that from a bottle.
Cilantro. Bright fresh green cilantro. A little goes a long way. You can always add more.
Red Onion.  Same with the cilantro – you don't want a lot. You want the main star to be the avocado, not the red onion.